Each week on #HallOfFameThursday, Horse Network recognizes members of the Show Jumping Hall of Fame with an inductee's plaque, historical photos and, on the first Thursday of every month, an article written by a Show Jumping Hall of Famer. This week, we recognize David T. Kelley, Show Jumping Hall of Fame class of 1989.
Upon leaving the Marines at the end of World War II, Dave Kelley became a frequent winner in hunter and jumper compe­titions.
He is believed to hold the record for most number of years winning at the National Horse Show where he competed every year but three from 1945–1989.
In 1965, Kelley was named AHSA "Horseman of the Year." In all, he won 17 Horse of the Year awards, an honor most horsemen would be proud to win just once.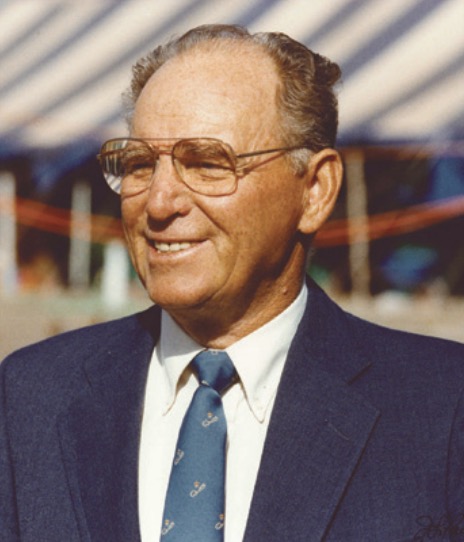 Kelley showed the legendary jumper, Andante, to the Horse of the Year award in 1953, 1954, and 1956. Demonstrative of his nature as a true sportsman, he passed up the chance for the award in 1955 to show Bedford to the award for injured rival Joe Green. Some years later, he similarly helped Harry de Leyer when he showed Snowman while Harry was hospitalized.
Kelley won one of this country's first Grandprix events riding High Frontier to victory in Oak Brook, Illinois in 1965. He also won the first big money event in Florida, taking first place on Windsor Castle in the $10,000 Orange Juice Stake in Winter Haven in the mid-196os. He repeated his win the next year on Sure Thing.
Kelley was Grand Hunter Champion at the 1976 National Horse Show on Royal Reveler, and he continued to show hunters successfully in the 1980s, winning the National's Grand Hunter Championship on Claridges in 1983. He also established an admirable reputation as a judge and judged the National Horse Show three times, an honor most receive but once.
The list of horses trained or shown by Kelley include such legendary names as Andante, Up in Smoke, Among the Stars, Gray Aero, Little David, The Angel, Tourist's Encore and Sir Thompson, which sired many champions. Kelley also showed Tomboy and Salem, both of which he owned before selling them to Mary Mairs Chapot and Carol Hoffman Thompson, respectively.
The Show Jumping Hall of Fame is a 501(c)3 not-for-profit charity that relies solely on contributions to operate. If you liked this story, please consider supporting its efforts to preserve our sport's history. Donations can be made online at www.ShowJumpingHallofFame.net.