Irish riders brought home the green this weekend, coast to coast.
At the Desert International Horse Park (DIHP) in Thermal, CA., Nicky Galligan (IRL) and Javas Miss Jordan topped a 32-horse starting field to win the week's biggest class, the $250,000 FEI Grand Prix CSI4* 1.55m.
The pair stopped the clock at 41.15 seconds with a fault free round in the Marina Azevedo (BRA) designed track. USA's Richard Spooner and Quirado RC were the only other combination to post a clear first round and advance to the short course.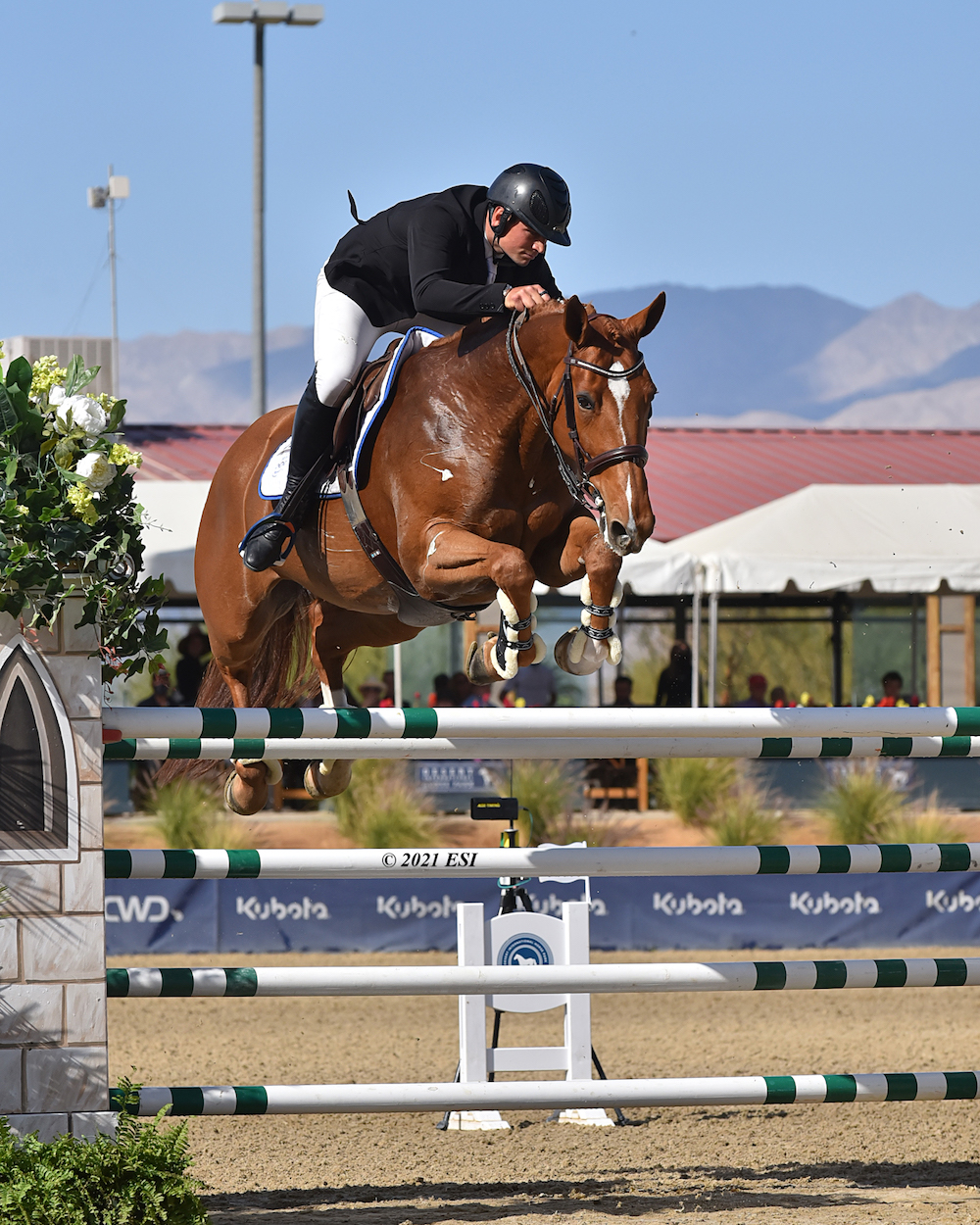 "I was thinking, have fun today, [it's a] two horse jump off," said Galligan. "I have a friend that always says to me, I want to be proud of you and I want to see you win trying to win rather than to lose trying to win. So when you have that chance, you just go for it.
"Richard [Spooner] had an amazing track in front of me, his line was so tight on his track,  but mine is quick across the ground,  so once I could keep the rhythm and keep going, I trusted her to be quick enough."
The winter season has now wrapped at DIHP. Competition returns to the Park in the fall with a lineup of Major League Show Jumping CSI2* and CSI5* events.
Meanwhile on east coast, everything was coming up Darragh Kenny on Week 10 of Florida's Winter Equestrian Festival.
The Irish rider picked up his second win of the weekend on Sunday, riding Great-Tikila J. Of the 45 entries in the $137,000 Horseware Ireland Grand Prix CSI3*, 10 combinations mastered the Michel Vaillancourt (CAN) designed track to qualify for the jump off. None could match the 35.24 second time and double clear effort of Kenny and the 10-year-old Dutch Warmblood mare.
"I actually got very lucky in the jump-off, to be honest," said the world #9. "I had planned to do the six [strides] like everybody did in the first line, then turned very tight back to the double, and she tried really hard. I had a hard rub on the back rail jumping out but got away with it, then I ended up doing six where [second place finisher] Hilary [McNerney] had done five, so I thought, 'Okay better run.'"
Sunday's class marked the debut Grand Prix performance for Great-Tikila J.
"When we bought her [a year ago], she was very green having only jumped 1.30m, but she's extremely talented," continued Kenny. "She's careful, scopey, brave, a little bit of a mare sometimes, but in the ring her ability is incredible. I was really happy with her because I aimed her for this week. She jumped clear in the WEF and then jumped super today and felt really good."
Kenny also won Saturday's $37,000 CaptiveOne Advisors 1.50m Classic CSI3*  with Vertige De Galarzacs.