If you are in the news business, particularly sports and politics since the two seem co-mingled these days, you're familiar with the term "horse race."
In politics, the "horse race" refers to polling data: Who is winning, who is losing and their expected percentages of the future vote. Such polls are always a snapshot at the time the poll was taken, entirely contingent on the moment, the accuracy of the sample selection and the honesty of responses as being representative of the actual future election results.
The two most recent presidential elections in the U.S. tell you how flawed those polls can be about the outcome of those "championship" races.
It can be the same in sports. In Thoroughbred racing, takeaways the day or two after even the most significant races, in our case the Breeders' Cup World Championships 2020, can report which horse won a particular one of its 14 races.
But those day-after reports still may be flawed in their assessment of the eventual "election winners," in our case on the year-end 2020 Eclipse Award Championships and the race results' possible impact on the coming 2021 Triple Crown season.
In most recent years, the favorite to be crowned Eclipse Award Champion Horse of the Year at the mid-January ceremony was more confirmed than decided by the time the annual Breeders' Cup Championship Saturday races for three-year-old and older horses came around.
But the winner of the Classic on Championship Saturday, often tapped the front-runner, can result in the too-early anointing of that victor as Horse of the Year. Perhaps this year.
In most recent years, the Juvenile races among inexperienced two-year-olds now running together on "Future Stars Friday," resulted in a too-early choice of the favorite for the succeeding year's Kentucky Derby. Perhaps not this year.
So, one week removed and now entering the lull between the end of racing's most important annual event and the naming of its Champions, let's choose our more thoughtfully considered five takeaways from Breeders' Cup World Championships 2020.
#5. Sheikh Mohammed has a "live" Derby hopeful
Dubai's Sheikh Mohammed bin Rashid al Maktoum wears several keffiyeh, the traditional Arab men's head covering. As the visionary leader of Dubai and Prime Minister of the seven United Arab Emirates, he has fashioned one of the world's thousands of dots of seaside and into one of its prime tourist destinations. Dubai has been dubbed the world's "first 21st Century City," a leading air and water transportation hub and a very desirable place to live and work for the expats who make up 90 percent of its resident population.
In the Thoroughbred circles, "Sheikh Mo," as he is affectionately known, is even better known as an avid horseman. He is a long-time rider in endurance races. As owner of Godolphin Racing and its breeding counterpart, Darley Stud, he is one of perhaps the world's two most prominent owners and breeders in the sport. The other is Ireland-based competitor, John Magnier, head of Coolmore. Both operations have tentacles wound 'round every aspect of the sport worldwide, buying and breeding to racing…and especially winning.
Godolphin's simple-but-striking royal blue racing silks with "Fly Emirates," the UAE's national airline, emblazoned in script on the chest, are a common sight at racetracks around the world. They are coveted by its few retained jockeys.
Godolphin winners are also a common sight at racetracks around the world, particularly at its home base in Dubai racing at Meydan.
But the worst-kept secret in the racing world is how Sheikh Mo covets a Kentucky Derby winner's trophy above all else, the one goal that has eluded Godolphin after several frustrating attempts.
He came closest in 2015 when fan-favorite gray Frosted finished a close fourth. Unfortunately, eventual Triple Crown and Breeders' Cup Classic winner American Pharaoh raced that year.
He had a better horse back in 2006 in Bernardini. Again unfortunately, a lung infection kept the son of A.P. Indy off the track for two months and out of the Derby. He ran away with a 5 1/4–length's win in the Preakness before heading off to his current career as a top stallion. His Preakness win is barely remembered however, tarnished by the eventually fatal breakdown of beloved Derby-winner Barbaro shortly after the start of that Preakness.
This year, Sheikh Mo has tapped Brad Cox, the moment's current guiding star in the Thoroughbred training firmament, to guide his latest hopeful, Essential Quality. Cox trained four of the 14 winners in this year's Breeders' Cup, tying the trainer win record.
The pairing is off to an auspicious start. Another gray son of Tapit—absent the quirky attitude—Essential Quality stormed from behind to win the Breeders' Cup Juvenile last Friday with previously undefeated favorite Jackie's Warrior finishing fourth.
Now 3-0-0 with two G1 wins in his three starts, Essential Quality leads the point total of Derby hopefuls with 30. He will remain in the U.S. to chase down that elusive Derby trophy for Godolphin and Sheikh Mohammed.
#4. When does $2.00 equal $148.40?
Okay, this is complicated.
Spanish jockey loritz Mendizabal was slated to ride Audarya in the $2 million Maker's Mark Breeders' Cup Filly & Mare Turf.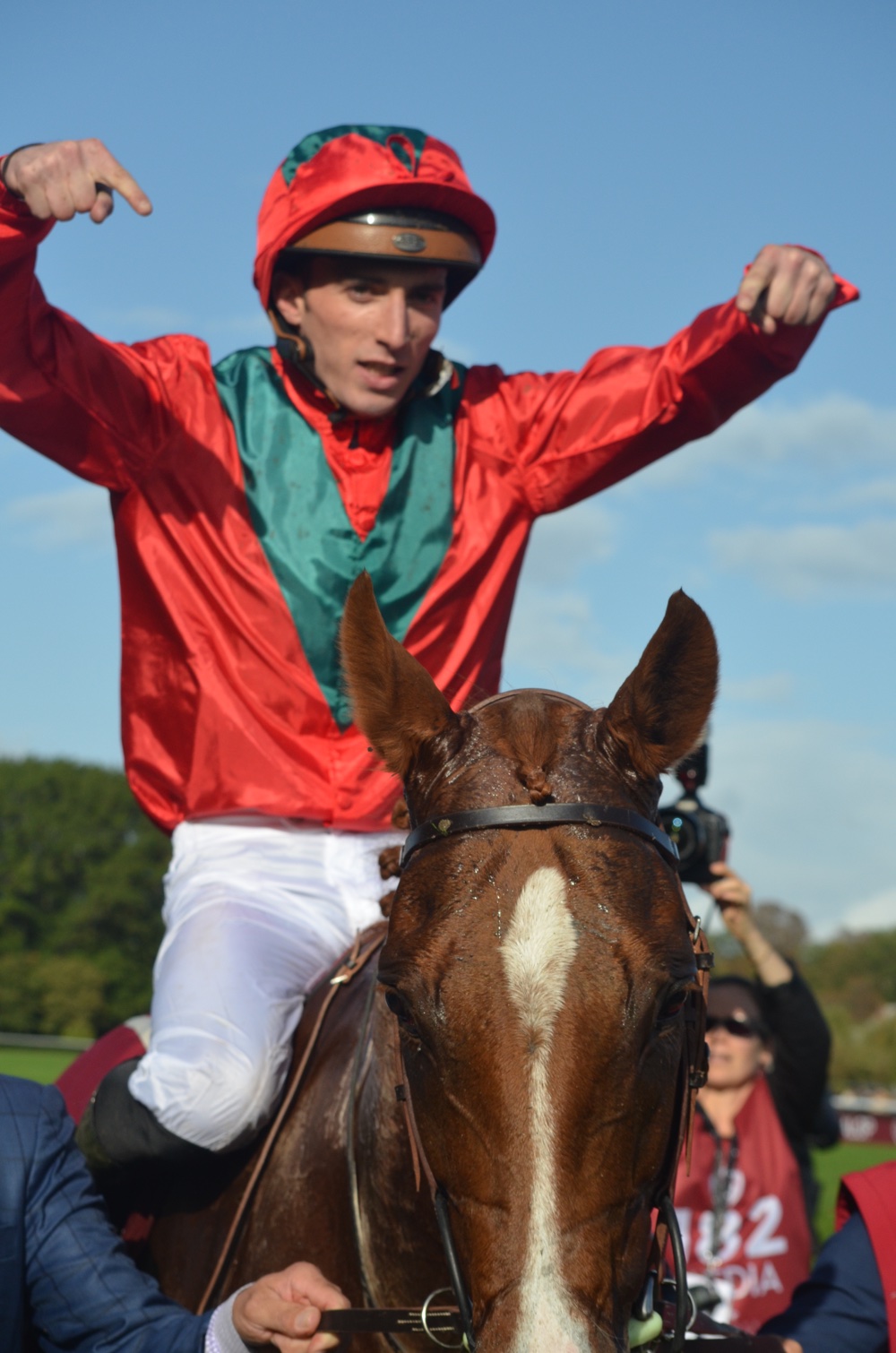 Two-time Champion French Jockey Pierre-Charles Boudot had the ride on entry One Master in the $2 million FanDuel Breeders' Cup Mile.
Belgian rider Christophe Soumillon was slated to pilot Tarnawa in the $4 million Longines Breeders' Cup Turf.
Nothing in 2020 seems to have escaped the effects of COVID-19. Nothing.
We mentioned the extensive all-inclusive COVID-19 testing at this year's Breeders' Cup World Championships. It's now worth mentioning two of the European jockeys tested positive and were immediately placed in isolation: Belgian Soumillon and Spaniard Mendizabal.
So Audarya now needed a rider and Boudot had no ride in this race. The Frenchman is a turf specialist who made a—perhaps ignominious—name for himself in the 2019 Prix de l'Arc de Triomphe at Longchamps. In that Arc, with turf softened by rain showers, he saved his mount Waldgeist and quietly tracked leader Enable from the far outside.
Enable had twice beaten her German rival, but a front-running strategy failed jockey Frankie Dettori on this day. Boudot quickened Waldgeist in the final 100 meters to overtake a tiring Enable and deny her a historic third successive Arc victory.
Boudot followed that identical stalking strategy as replacement rider in the Breeders' Cup Filly & Mare Turf. He overtook leader and favorite Rushing Fall in the stretch, winning in record 1:52.72 time for the 1 3/16-miles route, this time on firm turf.
The Frenchman wasn't fini. In fact, the better was yet to come.
Boudot's scheduled mount in the FanDuel Mile, One Master, was scratched from the race. The Frenchman now needed a replacement horse.
No problem.
Aidan O'Brien's Order of Australia had been consigned to the "Also Eligible" list, usually no more than two horses not quite qualifying for the initial field.
Order of Australia was entered off that list and assigned the far outside post, the rule for an "Also Eligible" entry.
No problem.
Again starting slowly in a stalking position—this is getting boring—Boudot moved Order of Australia three wide off the rail in the stretch to take the lead. He held that lead against a furious rush by Ryan Moore on stablemate Circus Maximus to win. Circus Maximus was better by a neck over another stablemate, Lope Y Fernandez.
The wild win resulted in a—gulp—$148.40 Breeders' Cup record-for-this-race 74.2-1 payout.
Wilder still, it gave O'Brien his first win in this race in 23 tries. That seemed a fitting reward for the respected international conditioner who, along with his two sons, scratched their combined 11 Ballydoyle Stable entries from Arc-day races. Accidental food contamination resulted in their horses ingesting a banned substance. It was thought by Arc officials the contaminant would leave the horses' system by race day, but the O'Briens withdrew their costly entries for what father Aidan said was "the good of the sport."
Good on you, Aidan.
Finally, with Soumillon out with a positive COVID-19 result, his horse Tarnawa was in need of a rider in the Longines Breeders' Cup Turf. Known top riders all were claimed for this $4 million turf equivalent of the dirt Classic.
Echoing the "Who's this guy?" script of Frenchman Boudot—this is getting boring—the 2017 and 2020 Irish Champion flat-racing jockey Colin Keane left a "Oh, that guy" taste in handicapper's wide-open mouths…
…charging down the center of the course in the deep stretch to overtake leader Channel Maker, holding on against a finishing challenge to beat favorite Magical.
#3. Age is only a number
We'll keep this one short, but it was looonnnggg on the feel-good emotion expressed by everyone in the sport, even losing competitors.
The seven-year-old chestnut Whitmore is a son of Pleasantly Perfect, a fan favorite who won the Classic (G1) in 2002 and the Dubai World Cup (G1) the following year, compiling a 9-3-2 record in 18 races. Like father, who passed away in June from the natural consequences of old age, twice like son.
Beloved by fans, Ron Mouquett-trained Whitmore is a sprinter. He has compiled a 15-10-4 record in an iron-horse 38 starts. He had run in the $2 million Breeders' Cup Sprint three times before. Out of the money in eighth the first time in 2017, he was runner-up to the great Roy H in 2018. As a six-year-old, he fell back a place to finish third last year.
He faced a full field of 13 other young'uns this year, including favorite C Z Rocket and Firenze Fire.
Here's what the ride out to the Winners Circle looked like trackside:
He saved ground early, then turned on what's left of his ageing afterburners under Irad Ortiz, Jr., a rider who may be the world's best, and left C Z Rocket in second stage by a comfortable head at the very comfortable winning price of 19.4-1 for $38.40 on a two-dollar wager.
Everyone is a Whitmore fan!
So excited were fans and industry professionals that one "unbiased" TVG broadcast announcer could be heard in the background cheering him on as he neared the finish.
Ortiz, BTW, won this year's Bill Shoemaker Award as top jockey in this year's Breeders' Cup for the third consecutive year.
Ignore the "old guys"—ahem, "veterans"—at your peril!
#2. "Remember me?"
This year's edition of the Longines Breeders' Cup Distaff was set up to be yet another great race in what has become perhaps the most exciting of the two-day's 14 races.
Instead, it turned into a one-woman showcase and yet another memorable chapter in the memorable career of racing's current brightest star:
It never gets boring to say "Monomoy Girl for the win!" This year, she would have to overcome three-year old fan-fav-phenom Swiss Skydiver, winner over Authentic in this year's thrilling Preakness.
The even-money favorite left from gate 10 and remained in a stalking trip, clear on the outside. In what one writer termed "the greatest pairing since peas and carrots," regular rider Florent Geroux allowed Lady Kate and Harvest Moon to exchange lead changes.
Harvest Moon straightened at the top of the stretch, seemingly in command. Geroux saw Swiss Skydiver attempting to sneak up along the rail. She had stumbled badly at the start, but readied to recover in the stretch.
That's when Geroux pushed the button and Monomoy Girl was, as usual, in a race against her own excellence. Valiance would close at the wire, but Monomoy Girl was 1 3/4–lengths the better in 1:47.84, just .09 seconds off Noble Bird's 2016 record.
Monomoy Girl missed all of 2019 with a nagging injury and a case of colic. At one point, it was announced she had been retired.
Deciding that a year in the pasture was no way to go out, she returned to win this signature race for female Thoroughbreds and complete a 4-0-0 comeback year.
The evening after her latest triumph, Monomoy Girl made her appearance at Keeneland's Fasig-Tipton mixed sale. It was assumed by the Johnny-come-too-early racing pundits writing the morning after her latest triumph that she would be retired. They prognosticated she would now spend the breeding side of her fertility producing other determined little girls and boys after her long-scheduled sale at Fasig-Tipton the very next day.
Showing no thrift, the F-T hammer went down at $9.5 million Sunday evening to B. Wayne Hughes' Spendthrift Farm, the same landing spot where Classic winner Authentic will begin his stallion career.
But Spendthrift surprised some and pleased many by announcing soon after the purchase that Monomoy Girl would remain in training under the growingly influential eye and reputation of trainer Brad Cox.
"Words can't even describe it," said Cox of his fourth Breeders' Cup win this year. "She was my first Grade 1 winner here at Keeneland. I'm just so proud of her."
Another previously unreported takeaway from this race was revealed early Thursday. Swiss Skydiver's stumble from the gate and resulting heel "abrasions" were more serious. Connections reported she has been placed on antibiotics and is being closely watched.
Monomoy Girl and Swiss Skydiver will return as racing's top matchup if both run in 2021. There is already anticipation of a possible future Breeders' Cup rematch a year away "Where the Surf Meets the Turf" at San Diego's seaside Del Mar.
For this year, Monomoy Girl is a lock as Eclipse Award Champion Older Female. Thought to be a shoo-in as Horse of the Year, Kentucky Derby and Classic winner, Authentic, appears to have some competition.
Monomoy Girl's legacy previous to this year's performance—she is now 13-2-0 in her 15 starts—is not supposed to factor in this year's decision. But that's like a judge telling a jury to ignore the inadmissible testimony they just heard.
She's on the outside, but closing fast.
#1. Another Baffert horse (sigh…)
Let Bob Baffert explain, as he did first in a text he sent responding to a "How do you feel?" query after his horse turned in a sublime performance: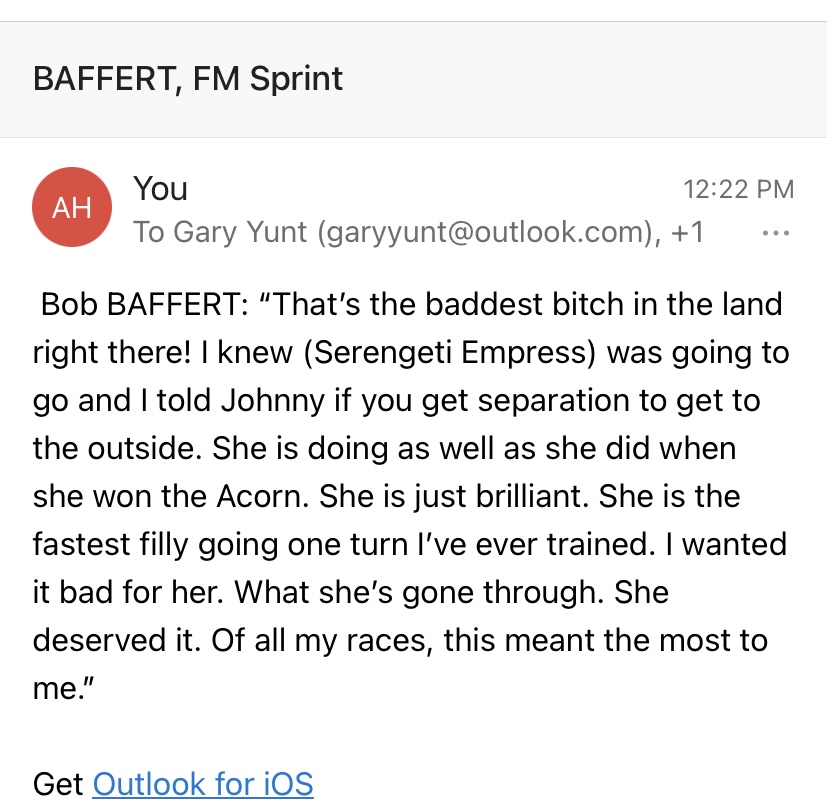 Surprise!
He was talking about Gamine.
The swift filly is the daughter of Spendthrift's (them again) star stallion, Into Mischief. He will offer the coming-year's highest-priced progeny at $225,000 per live foal and have a full book.
Gamine was one of Baffert's early-season stars. She seemed on a very fast glide path to the Kentucky Derby after blowing past the competition by multiple lengths in the Test (G1) at Saratoga and by similar multiple lengths in track record time in the Acorn (G1) at Belmont.
Then she hit a couple of speed bumps.
She tested positive for a trace amount of lidocaine on Arkansas Derby-day that slightly exceeded the allowable race day limit. Stablemate and co-Derby hopeful Charlatan also tested positive for the same excessive trace of lidocaine that day. She was disqualified from her win in an allowance race, Charlatan from his win in Div. 1 of the Arkansas Derby.
She went on to race in the Kentucky Oaks, run on its usual May 2 date despite the COVID-19 rescheduling of the Kentucky Derby to Sept. 5.
Her first time around two turns proved her possible limitation. She finished third behind winner Shedaresthedevil and new darling, Swiss Skydiver. To worsen matters, it was later reported by the New York Times that one horse had tested positive for betamethasone, a legal substance, but with a zero-percent limitation on race day in Kentucky. Unnamed sources identified the horse as Gamine.
We discussed this in detail in a previous article.
RELATED: Bob Baffert's "Craziest Year Ever" Gets a Little Saner
Suffice it to say here Baffert was infuriated at the inference he was intentionally "cheating." He vowed to fight the penalties. He did through his attorney. He lost the Arkansas appeal. The Kentucky appeal is pending.
Baffert verbally walked on eggshells all Breeders Cup-week long, contrite and reflective. But after Gamine smoked highly regarded mare Serengeti Empress by 6 1/4 lengths, shattering the track record in the process, Baffert let his real feelings be known in that laudatory, hilarious, uncensored text.
In an easy-going post-Breeders' Cup conversation the morning after with the few media gathered at his barn Sunday morning, he dropped the contrition.
Speaking just after the Breeders' Cup tradition of the Sunday-morning barn-area walkaround of the Classic winner, Authentic, for the benefit of the gathered media and fans, he expressed clear delight over Gamine's scintillating victory, the one race "[He] wanted after all she's been through."
…and that's a wrap on the 2020 Breeders' Cup World Championships
The Breeders' Cup World Championships for 2020 are over. We're now in the racing year's stretch. That Finish Line, The Eclipse Awards for the 2020 year in horseracing, is fast approaching.
2020 is a year most of us will not look back on fondly in the future.
At least not at first.
Still, we all have a tendency to later recall the best parts of even the worst parts of life. So, too, of sports. They have been a welcome distraction from the difficult events so many people have had to confront for so many months.
With the passage of time and distance away from the less desirable memories of this stricken year, those memories will become the "soft turf," malleable and impermanent. Our more positive recollections will become the "fast dirt," allowing us to speed swiftly through a rain-soaked present to a clearer and brighter future.
For racing fans, Swiss Skydiver's stumble at the start of her Breeders' Cup Distaff will be seen for what it was, an unfortunate event, momentary and forgettable. The racing fan in us will come to feel fortunate to have lived at a time when we could cheer on her brilliance in a memorable Preakness. Both events are part of the race.
For us, like the dirt and turf at Keeneland for the 2020 Breeders' Cup World Championships, future years will hopefully find us on fast, firm ground, realizing it's how we run the race, not where we finish.
With the passage of time, with determination and persistence, we'll all realize we all can be Whitmores.
Special thanks to Jim Gluckson of the Breeders' Cup, the Breeders' Cup website team, and the official 2020 Breeders' Cup media pool of the National Turf Writers and Broadcasters (NTWAB) for their information, contributions and invaluable assistance.
Feature image: Gamine, ridden by John Velazquez, winner of the 2020 Filly & Mare Sprint on Breeders' Cup Championship Saturday at Keeneland Race Course. ©Wendy Wooley/Eclipse Sportswire/Breeders Cup/Cal Sport Media