In 2017, 20,620 Thoroughbred horses foaled in the U.S. were officially registered with The Jockey Club.
Many were purchased at the Keeneland September sale for large sums. They are the product of well-paid bloodstock agents who advise matings and arrange sales. They were chosen for their pedigree and conformation. They were left in the care of famous trainers and doted on for three years like the super athletes they have become.
Their usually well-heeled buyers hoped theirs would become the winner of Saturday's 146th running of the Kentucky Derby, America's most famous race.
Only 16 of those 20,620 foals—a mere 0.07 percent—will enter the new 20-horse gate at Churchill Downs.
But the one with the hardest path to the Derby, the one with the most humble beginnings, perhaps the most deserving one, will not.
Finnick the Fierce is the latest scratch in the series of micro-tragedies that have dogged Kentucky Derby 146 since the arrival of COVID-19. But his is a story still worth the telling.
Finnick the Fierce had the pedigree of a racehorse at birth.
Paige Gilster, then a college student at Iowa State and wannabe breeder, rescued a mare named Southern Classic from the Bowman Ranch, a horse rescue center in North Dakota. Southern Classic had been entrusted to Bowman Ranch by owner Cindy Rhone after suffering a soft tissue injury that ended her racing career.
Though Southern Classic raced at a relatively low level, amateur breeder-cum-bloodstock agent Gilster was impressed by the high-level winners in her female line.
Mare in hand, Gilster and dad Jeff made the rounds of breeding farms to find a suitable pairing. On a visit to Darby Dan Farm in Lexington, Dialed In was trotted out of his stall.
Gilster recalled her entrée into her new vocation as a breeder in an interview with the Kentucky Derby.
"We both looked at each other and went 'Wow!'" recalls Paige. "Our gut told us Dialed In."
The son of Mineshaft hit all their buttons. He was a tall, strapping horse, over 16 hands, with a thick body and lots of bone. He also was successful on the racetrack, winning the 2011 Holy Bull (G3) and Florida Derby (G1). He lost as the favorite to Animal Kingdom in the Kentucky Derby, but redeemed himself by becoming the 2016 champion sire.
While they don't discuss the cost of the pairing, it was likely a bargain. Dialed In's stock has continued to rise. He since has sired multiple graded-stakes winners, including Gunnevera. His stud fee this year was raised to $25,000.
Southern Classic was moved to Lexington for her high-profile pairing. She gave birth to a chestnut colt on April 22, 2017. Gilster already had picked out his name—Finnick. With all the study and effort she had put into the successful birth, the colt might have found his way to the Keeneland yearling sale, except for one problem…
Finnick was virtually blind in his right eye. He was born with a rare congenital cataract. Over the next eight months, it became apparent he could at best see only shadows from it. But the colt had a stubborn character and seemed to cope well with his limitation. Still, the eye became progressively worse.
Finally, Gilster picked up her phone and made the call that changed several lives.
Dr. Arnaldo Monge at Lexington's Hagyard Equine Medical Institute had seen Finnick as a foal and was impressed. Given Finnick's worsening condition, Gilster needed advice. They discussed an experimental surgery. It could save the eye, but could fail and prove more of an ordeal for the horse. The alternative was removing the damaged eye. Gilster chose the latter.
A wannabe breeder on a shoestring budget like Paige Gilster could not afford to keep the commercially unviable Finnick. Her business plan called for the sale of the well-bred colt. Making the rounds at the yearling sales seemed futile because of his missing eye. So, she renamed him Finnick the Fierce and put him up for sale. She hoped the spirit embodied in his name could attract a buyer.
Turns out it did. Dr. Monge.
Gilster recalled Monge once telling her, "If you decide to sell that horse, give me a call." Following him since he was foaled, the good doctor had taken a liking to Finnick.
A phone call later, Monge had purchased a one-eyed racehorse from Gilster for $3,000. "I wanted him to have the best chance," recalls Gilster. "I knew he was going to get that."
Monge entrusted his new racehorse to trainer Rey Hernandez.
Hernandez himself had followed a hard path. The Guatemalan went from hot walker to exercise rider to sometime jockey to novice trainer beginning with one horse in 2016. By 2019, he had saddled 145 starters and had 28 winners.
The young trainer saw enough potential in Finnick the Fierce to buy a half interest in the gelding with Dr. Monge.
The hard work and trust of everyone involved immediately paid off when Finnick won his debut race at Indiana Grand last summer and later garnered a win at Oaklawn.
He began to accumulate points in the complex system used to select the 20 competitors for the Kentucky Derby. He eventually earned 25 points, just enough to claw his way to a gate. To put that in perspective, Derby favorite Tiz the Law has 372 points.
In fact, however, Finnick has the distinction of being the only horse who earned a Derby gate to beat Tiz the Law, finishing second to Silver Prospector and ahead of Tiz Nov. 30 in the Kentucky Jockey Club (G2).
But the doors of that hard-earned entry gate slammed shut on Finnick the Fierce just one day before the horse and everyone involved with him got the thrill they had worked so hard to achieve, to see their scrappy, one-eyed horse enter a starting gate and compete in "The Run for the Roses."
Since his arrival at Churchill, track veterinarians were keen to keep a close eye on the one-eyed horse, aware the world has its eye on horseracing. They were concerned about "unusual movement," a slight tug to his right as he runs. It was enough to compel co-owners Dr. Monge and trainer Hernandez to scratch Finnick the Fierce "out of an abundance of caution."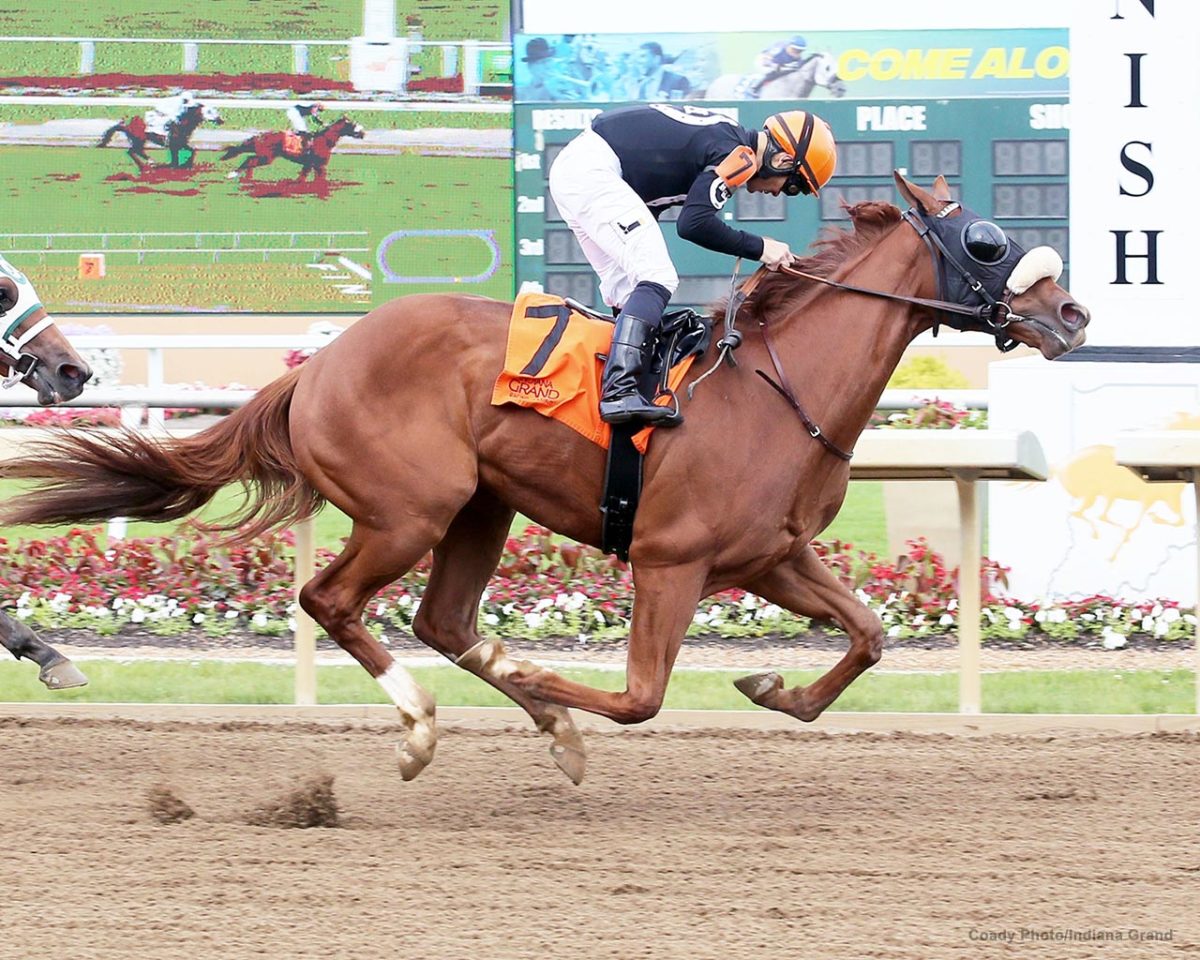 Dr. Monge told reporters he would have Finnick evaluated at Rood & Riddle, the finest equine hospital in the world. R & R is a far cry from the North Dakota horse rescue center where a young, horse-loving girl with a dream found Finnick's mother.
His co-owners tried to put a good face on their disappointment Friday morning. They hope he'll still run again, perhaps in the Oct. 3 Preakness (G1) at Pimlico or at the Breeders' Cup Nov. 6 at Keeneland.
Still, it must be a crushing blow to come so far and not see your dream become reality, to not see your lowly, one-eyed horse in the starting gate for the Kentucky Derby, "the greatest two minutes in sports."
…crushing for Paige Gilster, who invested what little money she had, but all the time and love she could give her spunky little colt, even to the point of giving him up for a fraction of what she hoped he could earn when sold.
…crushing for Rey Hernandez, who worked his way up from Central American poverty to become a respected participant in "The Sport of Kings."
…crushing for Dr. Arnaldo Monge, a field veterinarian who felt in his own heart his horse was fine, but said when he announced Finnick was scratched: "I know horseracing is under scrutiny all the time, so I understand not trying to risk that publicity."
Crushing for fans of the sport, who are experiencing loss of the feel-good story of this racing year, yet another disappointment in the troubles that have afflicted horse racing for the past two years.
Perhaps—and he cannot tell us—it is most crushing for Finnick the Fierce. Drawing the far inside gate with no right eye and odds of 50-1, Finnick had a greater chance of underwhelming a television audience of millions around the world than he did of winning.
But maybe it would have been enough to Finnick just to enter the shiny new 20-horse gate at Churchill Downs, one of the most iconic racing venues in all the world.
Maybe it would have been enough to know that for once in his star-crossed life he started in the same place as some of the finest horses in the world, the ones that cost hundreds of thousands of dollars and have been doted on for three years.
Maybe he would have found that ferocious kick in the final hundred yards, like he did in his first race at Indiana Grand last summer, the kick that propelled him past the leader to victory.
Or maybe the crushing blow that is Finnick the Fierce's scratch from the 146th Kentucky Derby is a glimmer of hope for racing, a tangible shift toward putting the wellbeing of these incredible athletes above stakes and purses—the saving grace of not only a horse but also of the sport.
And maybe, just maybe….