I awoke Friday morning and just stared at the comments. I'd spent the previous evening in a state of distress; a state of overwhelming fear, sadness, and this sick sense of loss. I am not good at ignoring things. I am not good at not doing. I am not good at sitting on my hands. I am not good at being still while watching others suffer.
So watching the barns of San Luis Rey Training Center burn was excruciating.
I have been through barn fires before. I watched the barn of the entire 2-year-old crop of a farm my partner managed go up in flames. I witnessed a trainer having to be sedated as he heard his horses scream. And, I've seen the devastation afterwards.
And yet, this time it was bigger. Greater. Scarier. But I didn't know what to do sitting in Lexington.
Video from the San Luis Rey Training Center shows trainers letting panicking horses free after failed attempts to coax them to safety amid the #LilacFire pic.twitter.com/HLHqGPR1nQ

— San Diego Union-Tribune (@sdut) December 8, 2017
I shared a few Facebook posts of where donations could be made. I asked my California followers and friends to go help. I begged for clothes and toiletries to be shipped. And then…I sat on my hands, not knowing what else to do.
Until I saw a Facebook update from a kindred spirit–a fellow horsewoman who felt the same helplessness. Renee Dailey posted that she was in a state of distress watching her fellow horsemen suffer and wanted to help, so she began to gather up a group of horsemen and women from Kentucky and get them there.
So I called her.
I worked sales for Renee and her partner Tom VanMeter before, and asked if I was what she was looking for. She immediately said yes. She wanted horsemen who could handle a 3-year-old intact colt, bandage a leg, and triage a case. She wanted someone who could stay calm under pressure, and not be unraveled by the severity of the situation. I made the cut, as did my significant other Luke Sullivan, who needed to do little more than tell his boss, Greg Goodman of Mt. Brilliant Farm, that he had been offered an opportunity to help the horses in California.
Renee found the horsemen—and quite easily. But what she needed now was the money and supplies, and a way to get us out there. So she hit the pavement. She and Tom called every connection they could think of. What started as a simple Facebook plea and a phone call quickly began to materialize into something real.
Spendthrift Farm offered their private jet to get us horsemen and women to California. Ron and Barbara Perry offered their home and their truck and trailer once we got there. Countless companies and farms pitched in with money, supplies and medications. Hagyard Pharmacy immediately gathered boxes of meds. KBC Horse supplies delivered bandages and supplies, and we packed our bags with a change of clothes and chain shanks.
We were off.
As I looked around the plane I couldn't think of a more miscellaneous crew of people from Kentucky—nor one more perfect.
We had a broodmare manager in Luke, who was also skilled in hauling and handling dangerous horses. We had a creative business manager in Caroline Walsh, who was a skilled horse handler with unlimited connections. We had the Thoroughbred specialist for Kentucky Equine Research in Erin Hogan, a woman who worked as a veterinary technician for decades and triaged countless other disasters. We had Twin Creeks Farm and stallion owner Randy Gullett, an experienced trainer who knows the backside like the back of his hand. We had bloodstock agent Sean Feld, an expert on California racing with a limitless supply of connections to get supplies and donations. And we met Allegra Lee and Renee Dailey once we arrived, two fierce, impassioned, and driven women who were ready to delegate.
And we had me…previously a farm manager, currently a scientist, and continuously associated with every entity in this industry.
Renee was truly the woman in charge, and got us arranged and on our missions. None of us had a famous pedigree. None of us had a famous last name. No one came for a publicity stunt or for good PR. We simply unloaded our trash bags and cardboard boxes of supplies from the fancy airplane and hit the ground running.
We didn't know what would greet us at Del Mar Racetrack, but what we encountered was the best greeting we could have dreamed of. The Race Office was well organized and knew exactly what they needed us to go hunting for. Horses had already been triaged by the time we arrived and the medical need from our side was limited. What was needed were THINGS. Trainers had not only lost horses, but also tack rooms full of supplies. From their own saddles and bridles to their personal medical supplies, blankets, desks and grooming kits.
Most grooms lived in the barns or on-site dormitories and lost even more. These men and women who stayed behind to save and rescue their horses had taken the hardest hit and lost everything but the clothes on their backs. They needed, and will continue to need, everything from clothing to supplies like microwaves, hot plates, food, and assistance.
The lucky ones who didn't have their living quarters burned down were now tasked with the additional commute from their homes around SLR, to Del Mar, which takes 30 minutes on a good day, and an hour in traffic. Men and women who were accustomed to, and could afford, a 5-10 minute commute are now draining their accounts just to get to the horses that they love and the jobs they need.
And some of those horses were still missing or unidentified. Still lost to the world, their fate unknown.
Our group divided into teams: Erin to help the veterinarians. Allegra, Renee and Sean to gather and deliver supplies. Luke, Caroline and I utilized our donated microchip scanners to go identify missing horses—3 of which we were able to locate and return to their trainer, which was one of the most emotional and gratifying experiences of my life.
It was a whirlwind few days, and we were happy to realize we were relatively unneeded, and the horsemen and women of Southern California had it under control. Around every turn we witnessed the extent of their tenacity and resilience. They pressed on through exhaustion and grief, and they will be ok.
I also had some time to think during my trips up and down the coast trying to find horses. Some of these things need to be discussed another day, and some need to be handled now.
#1: Please, microchip all of your horses. We learned in our whirlwind weekend how helpful this was in the identification of them. And this goes for young and old, expensive or cheap, thoroughbred or none. The microchips cost between $25-50 and invaluable in the identification of horses in scary, extreme, and dangerous situations.
#2: Have a plan, and stick to it. I watched the video of the horses being turned loose and was just in shock and awe of how they ran together and for the most part stayed uninjured and intelligent. It was the best plan for the horses and the men and women who acted quickly saved hundreds of lives. So sit down with your staff and talk about these things. What do we want them to do in a fire, or a tornado, or flood.
#3: We need a national governing body for the thoroughbred industry. There were so many people doing so many things, and while it stayed relatively organized, there were still moments of chaos and confusion.
We cannot always rely on donations from farms and owners. We cannot always assume that the racing office will have the time, energy or ability to alert the troops. We cannot always turn to Thoroughbred Charities of America and ask them to man disasters and problems as if it were the Red Cross or FEMA. There won't always be a Trifecta Farm across the road from the disaster, or a team of capable horsemen within driving distance. We need a plan in place for ourselves. Our industry. Our horses.
The men and women of California were shocked that we came all the way from Kentucky. They were grateful and shared their stories—stories of bravery, heroism, desperation and despair.
We found trainers in a panic still searching for their horses, and heard their cries of joy when we called them back to say we had the horses and they were alive.
We saw grooms who were battered and bruised but were still there at 4am the next morning to do treatments, hand walk, and muck out.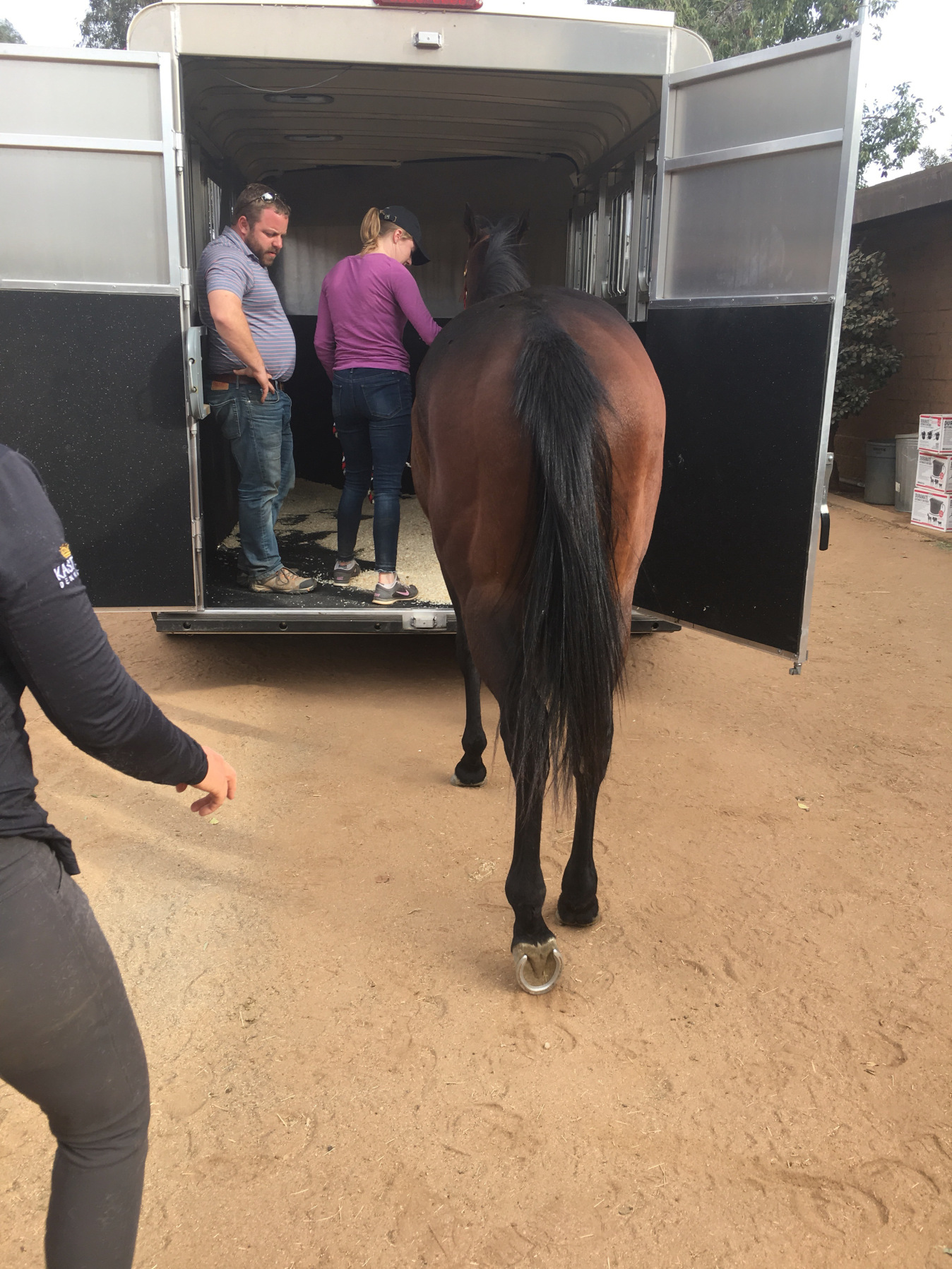 And we saw an industry that, yet again, came together. An industry that is constantly berated for only being "in it for the money." An industry that made no profit off of these last few days, but in fact, lost tremendously. An industry that rallied together, raised over a half a million dollars in 24 hours, and jumped into cars and planes to help.
That is my take away from this experience. They are battered. They are bruised. They are bleeding, but we, the entity that is this beautiful sport, will rebuild. We will be full again. We will be back.
To donate to the relief of these men, women, horses, and industry, please donate to Thoroughbred Charities of America Horses First Fund.
---
About the Author
Carleigh Fedorka holds a Ph.D. in Veterinary Science from the University of Kentucky's Gluck Equine Research Center. A Pennsylvania native, she moved to Kentucky after graduating from St. Lawrence University and has worked closely in all aspects of the thoroughbred industry. She spends her free time eventing as well as training, selling and rehoming OTTBs. Read more about her horse life at her blog, A Yankee in Paris.