This weekend, Parisians throw open the doors of the Grand Palais to equestrians the world over for what is, hands down, the prettiest horse show on the planet.
For the eighth consecutive year, Saut Hermès will welcome the world's 50 best riders to come together in the nave of the stunning Grand Palais, just a stone throws away from the Champs-Élysées, and compete in the ten classes of this 5-star international show jumping competition.
The location alone is to die for!
And the show jumping isn't too bad either.
On the evening of March 18th, lucky attendees will be treated to new show jumping event, as well as an all-new equestrian show, under the floodlit glass roof of the Grand Palais. The new CSI 5* class, named Prix du 24 Faubourg, will take the form of a timed course, with no jump-off, increasing in difficulty, with one pass permitted.
After nightfall, Hermès will present a poetic show entitled "Le songe de Don Quichotte" ("Don Quixote's Dream"), an original creation by equestrian artist Mario Luraschi and dramatist Florient Azoulay, which is sure to delight. With over 500 film credits, Luraschi has dedicated his entire life to exploring the mysterious links that unite a horse and its rider. On this evening, he'll seek to "break down the barriers between reality and illusion, the absurd and the sublime, the near and the far."
"Quite simply," writes Azoulay, "we want to tell you a little story full of fantasy, the tale of a dream a knight had when he fell to the ground. Only [Luraschi] could turn this dream into reality."
Everything inside the Grand Palais is like a beautiful dream, and the 2017 edition surely will not disappoint.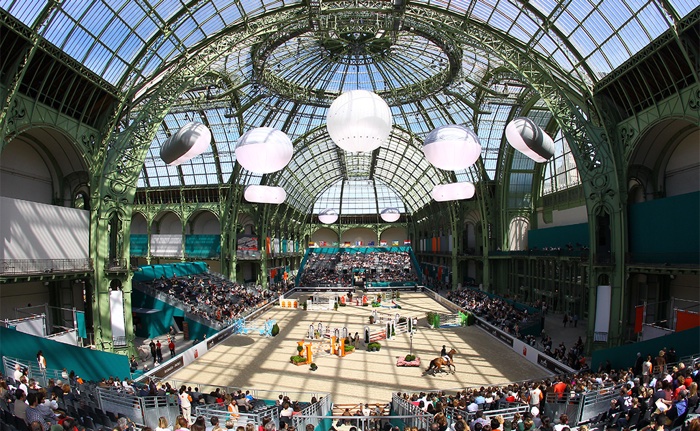 For all things Saut Hermès, visit their website here: http://www.sauthermes.com
---
About the Author
Marjorie Wilkinson is the co-founder and co-editor of Counter-Canter Culture—a revolutionary online publication intended to unite the equestrians and equestrian-enthusiasts who aren't afraid to kick up the dust that has settled on the conventional equine lifestyle. She is also a real-life Hollywood music supervisor and the official curator of Counter-Canter Culture's musical column, 100% Sound.