I once asked a jockey, many years ago, what it was like to ride racehorses for a living. "Imagine straddling a balance beam on top of a freight train," he said. "Now imagine ten other freight trains running right beside you."
Ok then. That sounds like the start of a pretty intense nightmare. Considering freight trains are far more predictable than thoroughbreds, and jockeys offer only about 100 pounds of resistance, it truly takes a special brand of maniac to commit to such a career. Their bravery is unquestioned. Jockeys literally risk life and limb every time they climb into the saddle. But it takes much more than courage and a slight frame to hack it out on the track.
Sometimes we get lost in the majesty of the horses and forget that jockeys are not merely brave little bodies just holding on while the horse circles the racetrack. They are stone-cold athletes; keen horsemen tasked with controlling a runaway train. Gymnasts in silks.
See for yourself…
Holding on for Dear Life
What started out as another ordinary race over a sloppy track at Golden Gate Fields in February 1989, ended in rather extraordinary fashion. As the horses neared the wire, a filly named Sweetwater Oak came flying up on the outside of the leader but stumbled badly, flipping her rider, Nate Hubbard, out of the saddle in the process. With a field full of steam behind him, one could only imagine the potential disaster that awaited the young rider as soon as he hit the ground. Desperate, Hubbard grabbed the filly's neck and managed to hang on until crossing the finish line in second place. Because his feet never touched the ground, the result was upheld by stewards. To her credit, the filly barely skipped a beat.
Boldly defying gravity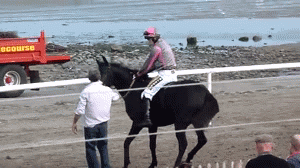 WHAT?!
Jockey Johnny King got more than he bargained for when his mount Arbritrageur went airborne before a race at Ireland's Laytown Racecourse last year. Amazingly, both the horse and rider managed to land on their feet, and King got right back on because he's a jockey damn it, and that's what they do. Alas, Arbritrageur and King finished the race mid-pack.
Over-Hedged
Britain's Cheltenham Festival is a prestigious stop on the hunt chase calendar and one of it's top jocks is Noel Fehily. As you see here, what Fehily lacked in timing was compensated by incredible strength and balance to stay on his horse Rock On Ruby in the Arkle Chase. Here's how it looked from a fellow jockey's viewpoint:
Uh-oh, Croco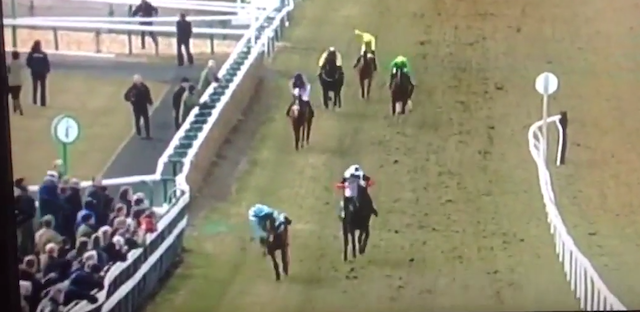 The gauntlet was complete. Croco Bay had successfully hurdled every jump and all that was left was a one final sprint. Fending off a charging rival and just a dozen yards from the finish line at Sedgefield Race Course, Croco Bay inexplicably swerved hard to the right and his unsuspecting rider Harry Challoner nearly went sailing over the rail. Instead, he somehow hung on in the closing yards and was rewarded with nice big winner's check.
Cannonball!!!
The announcer said it best: "And the rider has performed miracles to keep the partnership intact." I'll say. Leading jump rider Tom Cannon looked like he was riding a pommel horse after losing his seat on In the Jungle during a race at Plumpton Race Course in 2012. Not only did Cannon squirm his way back to the saddle, the horse, to his credit, barely flinched and the duo went on to win the race.
Afleet Footed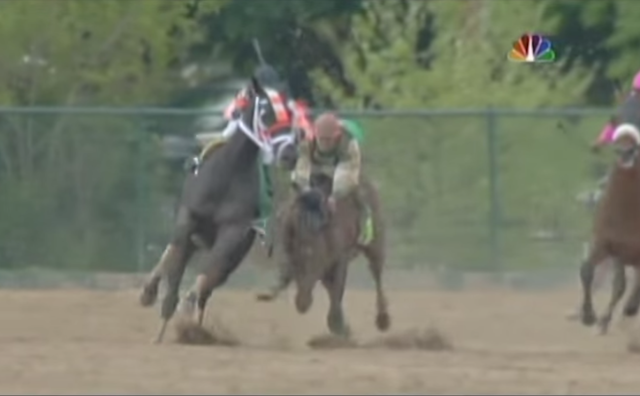 It seemed to happen in slow motion. On the lead at the turn for home in the 2005 Preakness Stakes, Scrappy T and rider Ramon Dominguez made an abrupt dart to the right and directly in the path of a hard charging Afleet Alex. The horses clipped heels and Afleet Alex stumbled nearly to his knees and almost sent rider Jeremy Rose catapulting over his head. But in an incredible display of athleticism from both horse and human, Rose grabbed on to his horse's mane, stayed in the irons and Afleet Alex quickly regained his footing, hardly missing a beat and pulled away to win by 5 lengths.
Thank you, Lord!
Riding Valaxco in a chase at Galway Downs last year, veteran rider Davy Russell catapulted over a hedge and appeared destined for a nasty fall but somehow kept himself on the horse's back and eventually negotiated his way back into the irons. Let's see how it looked from this person's living room:
Brute strength, deft athleticism and daredevil antics aside, sometimes jocks showcase a compassionate side…
Edgar Prado lends a hand
Win at all costs? Not Edgar Prado. During a race several years ago, the Hall of Fame jockey noticed fellow rider Javier Castellano had lost his right rein shortly after the start. Needless to say, when you're steering a 1500 lb. locomotive at 35 mph, it's best to have two hands on the wheel. With Castellano racing just to his outside, Prado calmly and cooly used his whip to lift the fallen rein back within Catellano's reach, and thus, disaster was averted.