Never has a groom been so completely beloved by his charge. Never has a groom meant so much to his horse. Never has there been another Man o' War and Will Harbut.
Harbut greeted each and every fortunate visitor who traveled to Faraway Farm to visit Man o' War in retirement with the following monologue:
"This is Man o' War. He ran in twenty-one races and won twenty of them. A hoss named Upset beat him at Saratoga when he was turned sideways at the start. He beat that hoss bad afterward. As a three-year-old he ran in eleven races and won them all. He ran a mile in 1:35 4/5 and broke the track record. He won the Lawrence Realization by a hundred lengths and set a new record. There wasn't anything to run with him when they retired him to stud. He is a great sire; he sired horses that have won three million dollars. There was American Flag, Crusader, Mars, Bateau, Battleship, Clyde Van Dusen, War Admiral, and War Relic.

The year War Admiral won the Derby he had four sons that were champions. War Admiral was the champion three-year-old, Battleship was the champion steeplechaser, Blockade was the champion timber hoss, and Holystone was the champion hunter.

Folks talk about 'second Man o' Wars'. There ain't any second Man o' Wars. This is the greatest hoss of them all. Nobody will ever know how good he was—there wasn't anything to run with him. There ain't ever been anything like him and maybe there won't ever be again."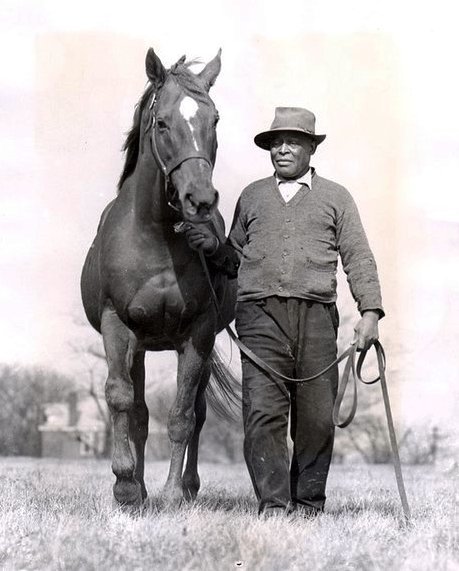 When Harbut passed away in 1947, his obituary in Bloodhorse listed his survivors as "his wife, six sons, three daughters and Man O' War." He was buried next to his old friend.
"Man o' War didn't need no excuses. He broke all the records and he broke down all the horses, so there wasn't nothing for him to do but retire. He's got everything a horse ought to have, and he's got it where a horse ought to have it. He's just da mostest hoss. Stand still, Red." -Will Harbut
"Man o' War stood in the doorway, statuesque and magnificent. There was a lordly lift to his head and his sharp eyes were bright. He didn't look at us, but far over our heads. If his red coat and mane and tail had faded with time, as my father said later, I was not aware of it. Nor did I notice the dip of his back, deepening too with age, I could not even have said whether his massive body was red or gold or yellow. I was aware of only one thing – that for the first and perhaps only time in my life I was standing in the presence of a horse that was truly great, and it would be a moment always to be remembered."    —Walter Farley
"As near to a living flame as horses get, and horses get closer to this than anything else. It was not merely that he smashed his opposition, sometimes by a hundred lengths, or that he set world records or that he cared not a Tinker's Curse for weight, or track, or horses…

All horses, and particularly all stallions, like to run, exultant in their strength and power. Most of them run within themselves, as children at play. But Man o' War, loose in his paddock at Faraway, dug in as if the prince of all the fallen angels was at his throatlatch, and great chunks of sod sailed up behind the haunches of power. Watching, you felt that there had never been, nor could ever be again, a horse like this." -Joe Palmer, editor of Bloodhorse
Arthur Bartlett on the daily routine of Man o' War during his racing days, published in The New Yorker, Dec. 1937:
"His first meal was at 3:30 in the morning. Then he took it easy in his stall until 7:30 when Frank Loftus, his groom, massaged him with a hairbrush, went over his mane and tail with a corn brush, washed his feet and face, and sponged out his eyes and nostrils.

"At 8:30, half the horses in the stable had been exercised, and Man o' War went out with the second set. Three days a week he jogged half a mile and galloped a mile and a half. Tuesdays, Thursdays, and Saturdays, he was given fast workouts on the tracks. After these workouts, he was walked until he had cooled out, then bathed with a mixture of alcohol, arnica, and witch hazel to keep his muscles from getting stiff. His feet and hooves were washed again and the bandages, which he always wore except when racing, were changed. Then he was put back in his stall, which had been cleaned and covered with fresh straw.

"At 11:30, he had lunch. At 4:00 he was led out for a half-hour's walk and at 5:15 he got his final meal of the day. His total consumption of oats was 12 quarts on ordinary days, 12 and 1/2 on the days he raced, three quarts a day more then that of the average horse in training."
"We don't know to this day how fast he was, as we were afraid to let him down; knowing his intense speed, we feared he might injure himself." -Owner Sam Riddle explaining why Man o' War was never let loose in a race
Juvenile colt Upset (by Whisk Broom) stands victorious after the Sanford Memorial Stakes at Saratoga in August of 1919, in which he (in)famously handed the great Man o' War the only defeat of his career.
It was a victory shrouded in controversy, as the New York Times's Fred Van Ness explained in the Aug. 13, 1919 edition:
Beginning with a very bad start, he came on to give battle to a horse which had a start of three to four lengths on him… it was unfortunate that the acting starter, C.H. Pettingill, one of the placing judges, spent several minutes trying to get the horses lined up and then sent them away with only those near the rail ready for the start. The start was responsible for the defeat of Man o' War, it turned out.
Though he is remembered almost exclusively for this Sanford victory (and the controversy that goes along with it), Upset was actually a very consistent runner who featured prominently in some of the big races of 1919 and 1920. He ran second to Man o' War in both the Grand Union Hotel Stakes and United States Hotel Stakes at 2, and was runner-up in the Kentucky Derby, Preakness, and Travers Stakes at 3 (the latter two again behind Man o' War).
Contrary to popular belief, the sports term "upset" (meaning either a longshot winner or a heavy favorite losing) did not originate with this horse. It had been used in sports writing prior to the Sanford, and many journalists remarked upon the coincidence of Man o' War losing to a horse with such a name.
Essential Man o' War Reading:
Man o' War's Funeral: Remarkable final tribute for majestic champion. Barbara Livingston, Daily Racing Form
Chasing Man o' War's Ghost. Barbara Livingston, Daily Racing Form