War Emblem, the 2002 Kentucky Derby and Preakness winner, is back on American soil after a nearly 13 year run as a stallion in Japan. Once he clears quarantine, War Emblem will head off to Old Friends Farm in Kentucky. It's a happy ending for one of the most "unique" horses in racing history.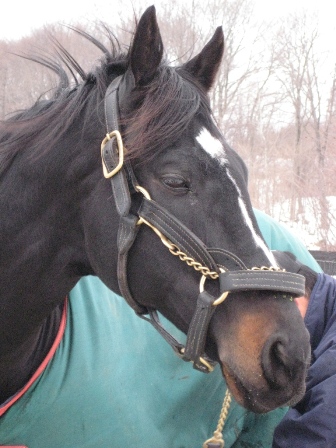 In the 38 years between Affirmed and American Pharoah, horse racing's Triple Crown trail was littered with the dashed hopes many great champions. One of which was a hot-headed, dark brown colt named War Emblem, who stormed into the national conscious by winning the 2002 Kentucky Derby in convincing, front-running fashion at odds of 20-1.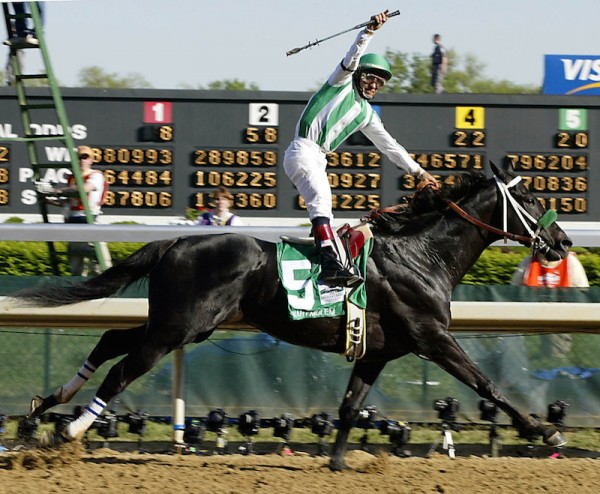 The son of the regally bred Our Emblem, War Emblem's racing career began rather unceremoniously. He won a few Allowance races early in his 3-year-old season, but never threatened at the stakes level. Until the Illinois Derby, where he shot to the lead right out of the gate and never looked back. It was the first career graded stakes win for his trainer Frank Springer, and secured the speed-hungry colt a trip to Churchill Downs for the Kentucky Derby.
Springer, however, would never saddle War Emblem again. Soon after his romp in Illinois, Prince Ahmed bin Salman, a member of the Saudi Royal Family, paid $900,000 for 90% ownership and sent the colt to the barn of Bob Baffert.
Baffert liked his new charge's speed, but was quickly schooled on the colt's fiery disposition.
"You can never lower your guard with this horse," Baffert remarked prior to the 2002 Derby. "And if he knows you're scared, he'll really take a shot."
While his speed was undeniable, typically, one trick ponies do not fare well in the Kentucky Derby. What if he can't get the distance? What if he doesn't get the lead? How will he respond if he gets bumped? Many questioned the colt's ability to stay the distance, not to mention the fact his trainer barely knew him and his rider, Victor Espinoza, had never even seen the horse until the morning of the Derby, and thus, War Emblem was considered a longshot at post time.
The colt broke sharply, rushed to an uncontested lead and never looked back, drawing away to win by four lengths over the likes of Medaglia d'Oro, Harlan's Holiday and Johannesburg.
After another convincing victory in the Preakness Stakes, the hype was heavy. Over 100,000 people packed into Belmont Park to see if this was the horse who would deliver a Triple Crown. The dream was dashed immediately. War Emblem stumbled leaving the starting gate, nearly falling down, and found himself in unfamiliar territory: the back of the pack. Unsurprisingly, he never responded that day, and just like that, he added his name to the long list of "Close, but no cigars."
War Emblem would add another Grade I win later that year in the Haskell Invitational, before retiring to stallion duty at year's end. He was a hot commodity. The Yoshida family of Japan ultimately ponied up $17.7 million for him, hoping he would be the successor to another dark brown Kentucky Derby and Preakness winner turned Japanese stallion, Sunday Silence.
War Emblem, apparently, had other ideas. His first year at stud resulted in just four registered foals. Infertile? Nope, more like…uninterested.
It was truly bizarre. In his first five years as a stallion, War Emblem sired a mere 40 foals. His owners were perplexed and undoubtedly concerned, so they brought in experts from Penn Vet's New Bolton Center, including Dr. Sue McDonnell, an expert in stallion behavior. Why would he react favorably for a few mares but unfavorably for the majority?
"His behavior suggested he was intimidated and slow to mature sexually," she said. "Young stallions just off the track, housed near experienced stallions, are often intimidated by them. It's similar to the nature of bachelor stallions in the wild."
McDonnell suggested they change War Emblem's living situation so that he could be isolated from the other stallions.
"We made him a harem stallion by giving him his own mares, who were nearby with safe fence lines," Dr. McDonnell said. "He was able to patrol the fence lines as a harem stallion would. Those were the first ones he started breeding."
This tactic did indeed improve the situation…at least, temporarily. Before long, War Emblem was right back to his finicky ways. In 2010, he covered just 5 of the 300 mares he was presented.
This is how the remainder of his stud career would go. Some days he'd be down, most days he couldn't be bothered. The questions remain…is he really just that particular? Traumatized? Homosexual? Asexual?
As the mystery endures, at least we know for certain War Emblem will enjoy a happy retirement at Old Friends in Kentucky, where he will share grass with, among others, a horse named Sarava, the longshot winner of that ill-fated 2002 Belmont Stakes.