"He's my favorite horse in the barn," Baffert boasted. "He's such a cool horse…completely bombproof."
He may be "Smokey" here in the Baffert barn, but the 6-year-old buckskin gelding's registered name is This Whiz Shines, an ex-reining Quarter Horse Baffert purchased from Nebraskan Dan Twombly, of Twombly Performance Horses.
"I love to buy a good-minded, good-looking Quarter Horse gelding for my saddle horses," Baffert told America's Horse.
No surprise there. Before becoming a Hall of Fame conditioner of thoroughbreds, Baffert trained Quarter Horses in his native Arizona. Only in the early 90's did he make the switch that would eventually lead him here, just one race shy of racing's most elusive feat: the Triple Crown.
Smokey was preeeeeetty sure he deserved more attention on the plane than #KYDerby/#Preakness winner American Pharoah! pic.twitter.com/h4ryF2iIH3

— NYRA (@TheNYRA) June 2, 2015
It's a thrilling but ultimately nerve-wracking prospect for any human, and while the horses are unaware of stakes, they are hardly oblivious to all the trappings of fame. That's where Smokey's companionship comes in, keeping the geared up colt relaxed amid the constant sea of snapping cameras, the traveling to strange new places and the uninhibited shrieks of the over-served.
"He kind of keeps me calm, too," Baffert quipped. "I just really enjoy him."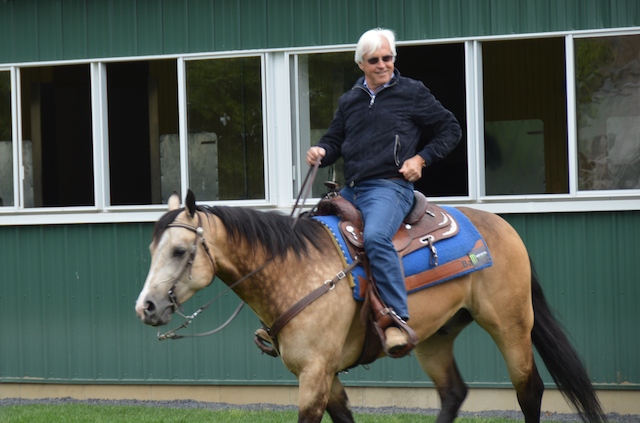 As the press closed in on Barn 1 on an unseasonably crisp Belmont Eve's morning to watch The Pharoah get bathed, the milky haired Baffert emerged with his saddled sidekick in hand. He then climbed aboard and dusted off some solid spin moves, unable to hide his delight. For the rest of the day and into tomorrow, all eyes will be on American Pharoah. This moment, however, belonged to the pony.