His name is Wise Dan, a 7-year-old chestnut gelding with a humble pedigree who just so happens to be the two-time reigning Horse of the Year. Wise Dan loves to run and hates to lose. In 30 career starts, he's won 22 times, 18 of which were graded stakes races. He's won on turf, dirt and synthetic. He's won sprinting and at 9 furlongs. He's done it setting the pace and coming from behind. His career earnings are nearly $7 million and he's looking to win an unprecedented 3rd consecutive Horse of the Year Eclipse Award this year.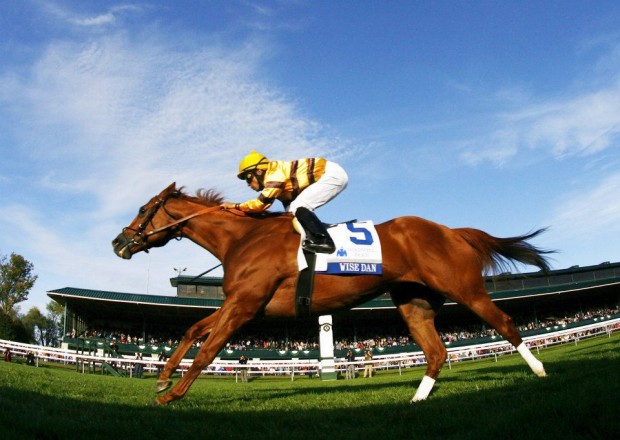 Pretty incredible, especially when you consider where Wise Dan was back in mid May—not on the racetrack racking up more loot, but on an operating table at Rood & Riddle Equine Hospital in Kentucky, undergoing an emergency intestinal procedure for a severe case of colic.
A perfect time to call it a career. You did great Danny boy, time to head back to the farm and rest on your accolades.
Dan, however, had a different idea. He wasn't quite ready to stop running you see, and after a swift recovery was back in the starting gate on August 30th at Saratoga in the Grade II Bernard Baruch Handicap…and back in the winner's circle yet again.
He is a freak. He is a legend. He is, as the folks at America's Best Racing so cleverly proclaimed, The Most Interesting Horse in the World:
Wise Dan is expected to run in the prestigious Shadwell Turf Mile Stakes this Saturday at Keeneland, his home turf. Assuming he comes out of that race in good order, it will be onto the Breeders Cup Mile, which he's won the last two years.
Here he is a week ago, preparing for this weekend's big test. Just look at this marvelous beast flow.
One of the big issues facing the sport of horse racing is capturing new fans. Decades ago, horse racing was one of the most popular sports in America, as champions like Man O'War, Seabiscuit, War Admiral and Secretariat captivated even the most casual sports fan.
Today, horse racing's elite ranks are dominated by well-bred fillies and colts who race for two years then retire to breeding duty before really having a chance to get noticed and appreciated by the general public. So when a modestly bred gelding comes along slowly, then starts reeling off win after win, year after year, it's worth cherishing.
You may love horse racing, you may detest it, you may not care at all; but all horse people can appreciate a beautiful, time-tested champion like Wise Dan.