The Bromont CCI4*-S is Colleen Loach's to lose.
The Canadian Olympian has contested Bromont five times with FE Golden Eye since 2019 and only once missed the podium. The won CCI3*-L in 2019 and the CCI3*-S in 2020. They took second in the latter division in 2021 and third in the CCIO4* Nations Cup in 2022. The only time they didn't podium at Bromont was last month's CCI4*-L when a mere .4 penalties pushed them into fourth.
This week, they're poised to course correct.
Twenty-two international combinations came forward in the CCI4*-S at Bromont, Quebec on Friday.
USA's Boyd Martin brought veteran partners Tsetserleg and On Cue forward for a final prep run before the Burghley CCI5* later this month, along with new ride Commando 3.
The world no. 10 took the early lead aboard 17-year-old mare On Cue, earning a 30.9 in dressage, but added four faults to their score in stadium to slip down into third.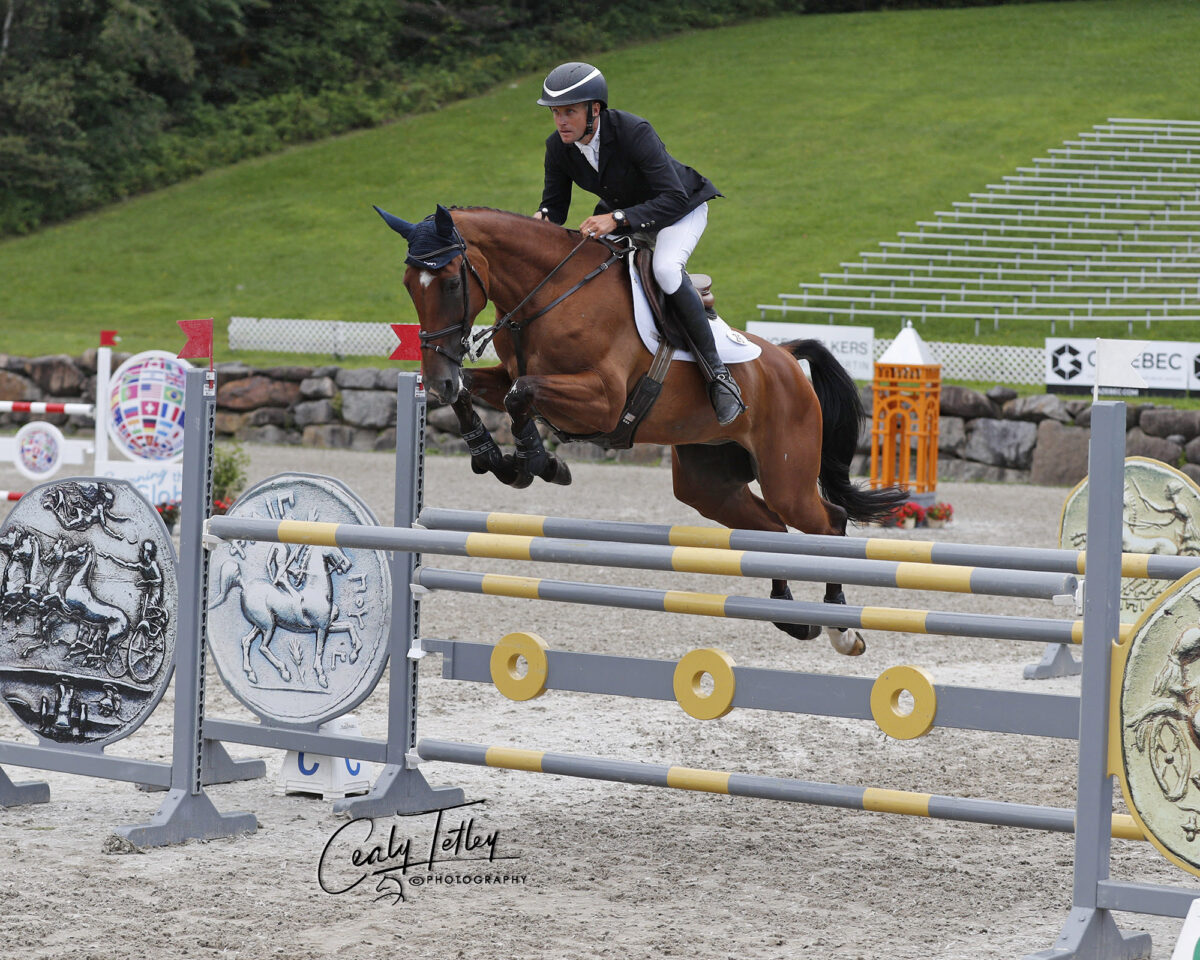 Aboard his Tokyo Olympics and Lima Pan-Am double-gold-medal mount Tsetserleg ("Thomas"), he danced to a 34 score, a far cry from their personal best of 22.1, while Commando 3 ("Conor") was awarded a 34.1. It was good enough for sixth and seventh after dressage.
"My two geldings, they were up on their toes, fresh and spooky. I was a little bit disappointed with those two. But they both haven't been out for a while. So all in all, it was good," said Martin.
Tsetserleg "redeemed himself" in stadium as one of only three pairs to find a clear path around Brody Robertson's course within the time allowed.
"Thomas is off the hook now. After a disastrous dressage test, he pulls out a clear round when we need it so far. Good on you, Thomas," said Martin.
Martin moved into the top two spots with Tsetserleg on 34.0 and On Cue on 34.9 after stadium. That is, until Loach usurped the throne.
Aboard her Pan American team bronze medal winning mount, Loach was second after dressage, waltzing to a score of 31.7, but said there was still have room for improvement.
"Goldie felt great in the dressage, really forward and ahead of my leg, which we've struggled with in the past. We still struggle a little bit with the flying changes—we got one out of two. Once we get that will really be in business," said Loach.
In stadium, there were no such struggles, despite a tight time allowed that caught seven pairs and demanding course that saw only three combinations leave all the jumps in place.
"It was a tough course," said Loach. "Lots of tight turns to square oxers and the triple caused a lot of trouble. It rode really well for me. Goldie is an amazing jumper. You can't ask for much of a better jumper. I just rode it forward and he jumped really well.
"Overall, I was really happy with him. He's such a good guy who's always very rideable and very well-mannered in the ring, so that's really helpful."
Looking ahead to Saturday's final cross country phase, both riders are prepping for wet conditions and looking to avoid expensive errors. In the CCI-S or short format, mistakes penalty points come in multiples of 20, rather than fours as in the show jumping arena.
"It's very wet, so we'll see how the footing holds up," said Loach. "But I'm looking forward to playing in the mud tomorrow."