The environmental phenomenon known as a heatwave is often described as an oppressive temperature climb that alters the current climate.
There is no better way to describe the effect Helios had over the Major League Show Jumping (MLSJ) tour this season, sweating out their competitors one-by-one, including the defending champions in one final showdown in the desert.
On Thursday night, it came down to a battle between Helios and Eye Candy for the Brown Advisory CSI5* MLSJ Team Competition Final at Thermal, CA.
The sand at Desert International Horse Park (DIHP) was ultimately Eye Candy's melting point, however. Helios made history over the Alan Wade designed course to log their record-setting sixth win of the 2022 season. In doing so they also won the overall championship.
With no intentions of leaving room for failure on the table, Helios riders each campaigned the strongest horses in their string. Ashlee Bond (ISR) was on her Olympic mount, 11-year-old gelding Donatello 141. Karl Cook fielded the ever speedy 12-year-old mare Kalinka Van't Zorgvliet and Bliss Heers, her veteran partner, 12-year-old stallion Antidote De Mars. Each of Helios's mounts have won a 5* Grand Prix in the past three months.
For a team that dominated the season standings from stage one, finishing off with a win in the Final seemed like the perfect fairytale ending. But for the Helios way of thinking, it was their only possible reality.
"It just feels like a like a big sigh of relief, honestly, because man, if we didn't win this one, I think we all would have just been like, 'we're done'," said team manager Bond.
"We would have been scared of Ashlee," laughed Eugenio Garza, who was cheering on the sidelines for the Final, but contributed to four team wins this season.
In Round One, Helios was the only team to put down three clears, advancing to Round Two in pole position ahead of Eye Candy, Trailblazers and Lugano Diamonds.
The second round was the scoreboard wiped clean as the four teams had to battle again for position in the medal deciding round; top two, jump off for gold, the bottom two, for bronze.
Eye Candy's Amy Millar (CAN) aboard Christiano and Paul O'Shea (IRL) with Squirt Gun careened through the course to finish on 41.65 and 41.12 seconds respectively, two of the fastest times on the day, assuring their spot in the gold medal match.
For Helios, it was go gold or go home. Fail to qualify for the gold medal match and Eye Candy would take the overall championship, after shooting up the team standings with wins in MLSJ Monterrey and MLSJ Thermal I. When Heers took the track in 46.13 with Antidote, it fell to Bond and Donatello to bring the team up to speed, a feat they accomplished with a minor blip along the way.
"I had to go really fast, and Doni's usually really fast, but then I had to even ask more of him than I think I normally would. And he gave me everything," said Bond. "I really hugged [turn around the hut] and saw the first [distance]. And he just did not see what I saw and chipped in the stride. I think that's the first time that's really ever happened to me and for sure on him."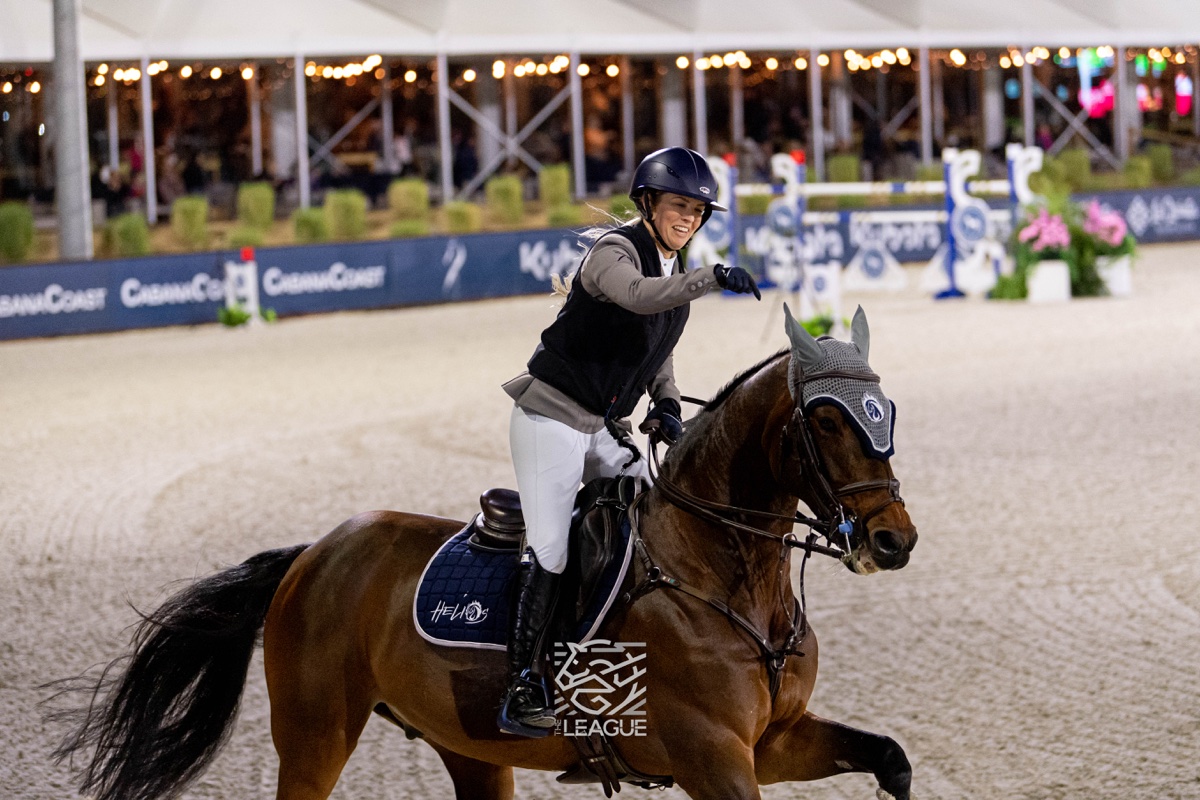 The pair left the jump up and the after burners on, crossing the timers in 42.26 to secure Helios's spot in the gold medal match and hand the baton off to Cook and Kalinka.
"The pressure was put on tonight. I think we all wanted it really, really badly. Fortunately, my teammates bring it and they handle the pressure," said Bond.
Pressure was the keyword of the day.
"The pressure, it's interesting. It's kind of like when you feel motion sick before you go scuba diving, the second you hit the water, it's all gone. So the second I go in the ring, I'm happy. Once I'm on the horse, then I'm happy. And so I knew what I had to do," explained Cook.
His horse, Kalinka, doesn't share his ring-going ease, however.
"So I'm going to be honest, I am scared for my life when I ride her," said Cook of the mare's fractious nature and frequent leaping off all fours. "And that's just the way she is and she's good the way she is. So I have to get over my own emotions. But yeah, she's petrifying to ride."
"I trotted Kalinka once. That was not fun," Bond concurred.
What Kalinka lacks in rideability she more than makes up in talent when it comes to leaving the jumps up at speed, and Cook needed every bit of razored edge riding he could manage when going head to head with Eye Candy's Jaqueline Steffens and Freaky, last year's speediest pair.
Cook and Kalinka set the time to beat 41.37. Forced to chase that speedy time, Steffens took a risk to the final double and collected a pair of rails, handing the win to Helios.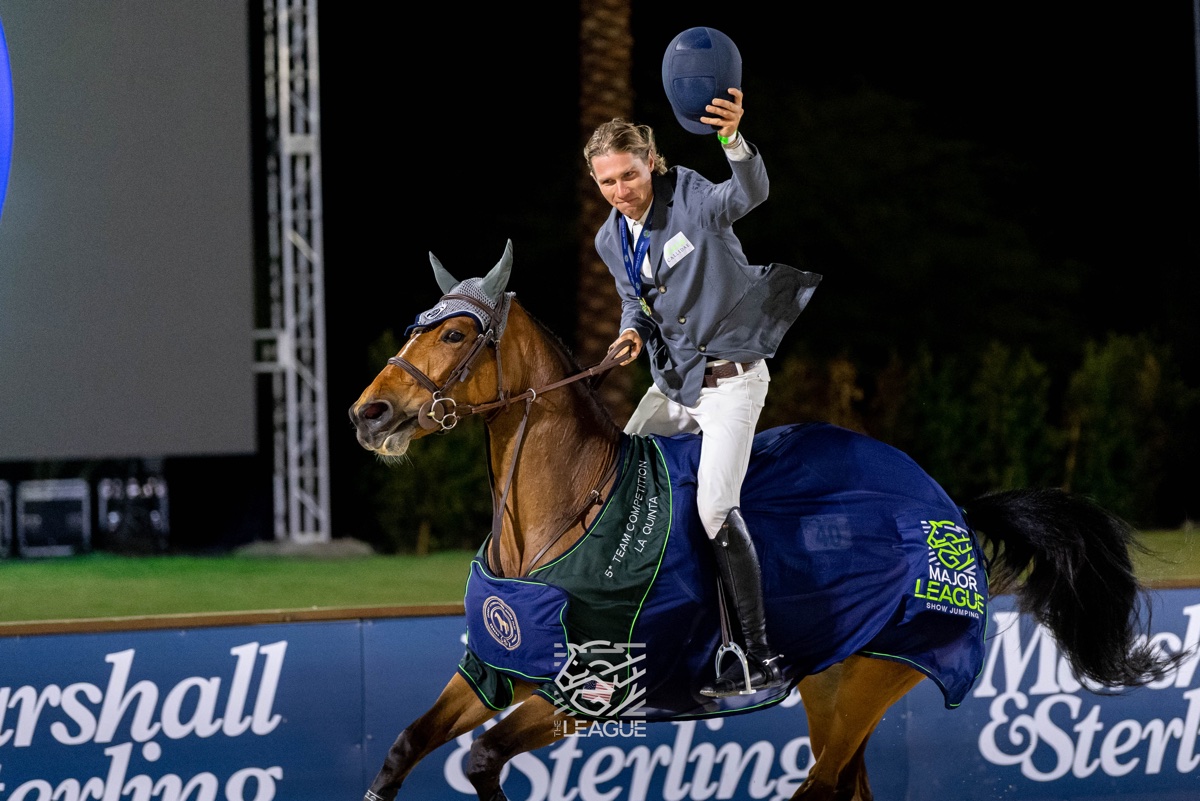 "It feels a bit surreal," said Bond.
"We knew what we had to do. We're fortunate, the three of us, with our three horses, our five star winning horses. So we knew what we were capable of and we just had to go out and perform and not mess it up."
For spectators, it's assumed that the most difficult job of a team member belongs to whomever is holding the reins. Garza said the more difficult job is not to be riding.
"When you're on the horse, you're in control, but when you're outside, all you can do is jump, kick, curse, yell. I mean, pretty much what me and Simon [McCarthy] did all night long. It's definitely a lot harder to watch!" said Garza.
"It's a team of friends that's really close now and it's like a family, you want them to do well not only for you—because I mean, there is a lot [of prize money] for us all individually—and but for them as well."
"It's been an unbelievable year," added McCarthy. "We've really, really grown closer as a team and as friends."
Whether or not this family will stick together for the next season is still to be told, but for now they're enjoying their champagne (and the lion's share of the $500,000 MLSJ team bonus).