The FEI World Cup Finals™ 2022 Leipzig is officially underway, and no, we won't tell you to stay calm. We'll tell you everything you need to know.
With four finals running concurrently this week, new champions will be crowned in jumping, dressage, driving and vaulting in Leipzig, Germany.
Here's how the first day of competition has shaped up:
Show jumping
Martin Fuchs secures the lead.
Charlie Chaplin found fame in silent films, but when Martin Fuchs (SUI) and Chaplin finished their course, the crowd was anything but quiet. Fuchs snagged the lead in the Longines FEI Jumping World Cup™ Final I (CSI-W) 'speed and handiness' round with 15-year-old KWPN stallion. They clocked in at 65.11 seconds, over a second faster than runner up Max Khüner (AUT) with 11-year-old gelding Elektric Blue P.
With this Table C format, a rail is converted to three seconds on the clock, giving riders a chance to place respectably with a fast time and unlucky rail. However, it was only a fast clear that awarded podium finishes today.
"It was a great ride, Chaplin jumped fantastic and the risk paid off…I did the course exactly as planned," said Fuchs.
Fuchs had extra time to plan when he drew the lucky place of penultimate rider in the order-of-go. That way, he could watch all of the competitors contest the course before him.
"Tomorrow I will be jumping The Sinner, and Chaplin will come back on Sunday," told Fuchs.
Under World Cup rules, riders are allowed to bring two horses so long as they've competed in World Cup qualifying classes. Fuchs has accrued impressive results lately with both Chaplin and The Sinner. Chaplin came fifth in the CSI5* Grand Prix Hermes in Paris at the tail end of March, and won the CSI5*-W World Cup in Lyon in November of 2021. The Sinner won a 5* class at Saut Hermès, the 1.50m Prix Hermès Sellier, and topped the CSI5*-W 1.50m in London.
Currently ranked World No. 3, Fuchs is always one to watch in the field, but all eyes were on the Swiss especially today. Defending champion Steve Guerdat has won the Final three times and was gearing to make it a historic four, but he had a disappointing start with 13-year-old gelding Victorio Des Frotartds and landed in 25th place. With Fuchs' strong start, there's a good chance the trophy will remain in Swiss hands yet.
But don't count anyone out yet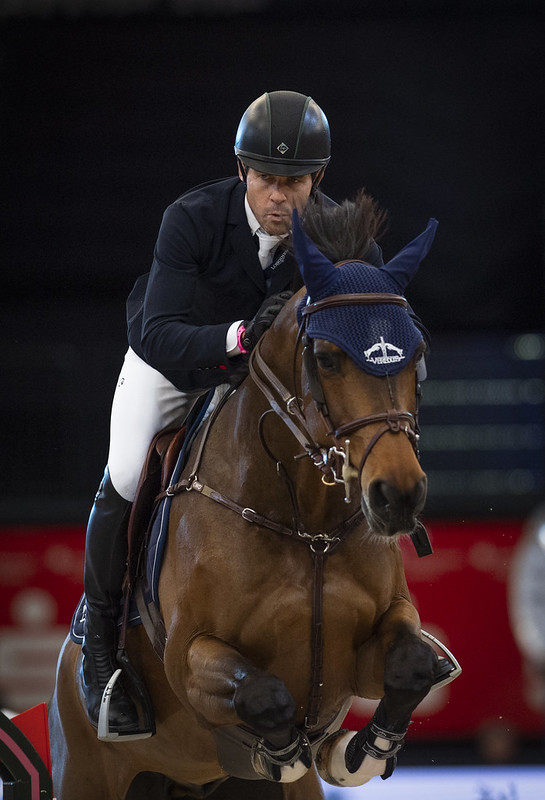 Specifically, Conor Swail and Count Me In. The pair rounded out the podium with a quick and clear 67.06 seconds. For Swail, who has a flavor for winning, it went exactly according to plan.
"I was super happy. The horse jumped super amazing tonight…Everything worked out like I wanted it to," said Swail.
Does that mean he was just warming up? Sounds like nobody should get too comfortable on top.
The American field is split
FEI World Cup Finals™ veteran McLain Ward showed a strong start with his Olympic partner Contagious, finishing fifth on 67.94 seconds. He clocked the fastest time of the field, 64.94 seconds, before his fault was calculated.
"Contagious performed brilliantly. I made a small error, which is a shame because I think his time was quite strong," said Ward.
Historically, Ward has had an ambivalent relationship with the Finals, so his bittersweet perspective on today's result should come as no surprise. The title long evaded Ward until 2017, when he finally won with HH Azur on his 17th attempt.
Conversely, World Cup Finals newcomer, 25-year-old Hunter Holloway, grasped a top-10 finish with Pepita Con Spita. So whether you're on your 18th go, or first, you still need a good day and a lot of perseverance.
Unfortunately, the other six Americans didn't start out as strong. Kristen Vanderveen, Aaron Vale, Schuyler Riley, Alessandra Volpi, Misti Cassar and Katherine Dinan landed between 22nd and 30th place. Margie Engle withdrew from the class. But alas, tomorrow is another day.
Dressage
The Longines World Ranking could have predicted these results
The FEI Dressage World Cup™ Final – Grand Prix was a tug-of-war between Germany and Denmark. Coming out on top was Jessica von Bredow-Werndl (GER), who is accustomed to doing that by now. Did we mention she's the No. 1 ranked dressage rider in the world? Her most notable recent results were gathered at the Tokyo Olympic Games, where she piaffed home with two gold medals. She won individual and team gold aboard Tsf Dalera Bb, the same 15-year-old mare she won with today.
Following her was Catherine Dufour (DEN) with 10-year-old gelding Vamos Amigos. Dufour is currently ranked No. 2 in the world, and was awarded individual bronze in Tokyo with Bohemian.
Bredow-Werndl's compatriot Isabel Werth, world No. 4, brought it back to Germany, coming third with Weihgold OLD, before volleying back to Denmark with Nanna Skodborg Merrald for fourth place.
Ashley Holzer was the top placing American rider sitting in ninth place. Dressage action returns on Saturday at 19:10 CEST (1:10 p.m. EST) with the medal determining musical Freestyle, so turn up your speakers and prepare to watch horses dance battle from home.
Where Is Leipzig?
It's hard to appreciate the complicated logistics required to compete with horses in different countries every week if you've never done it yourself, but it would be correct to assume it's no simple undertaking.
Leipzig is in east-central Germany, and is the largest city in the German state of Saxony. Many qualifying North American athletes needed to high tail out of tropical Florida, where they were showing just last week. But leave it to the super grooms to get your horses to the other side of the world happy and on time—and, like Margie Engle's groom Linda Birk, give you the best behind-the-scenes sneak peeks.
What's next?
So, we've seen our first day of show jumping and dressage. Friday lays the grounds for more jumping, but also driving and vaulting. Don't miss a beat, and catch the full schedule here.
Feature Image: FEI // Richard Juilliart