This week, half a world away on a primitive slice of Mongolian Steppe, 41 ambitious, adventure-starved equestrians are saddling up and heading out for a week of torture on horseback. It's called the Mongol Derby—the longest, toughest, craziest horse race on the planet.
The premise of the race is quite simple: finish. Getting there, well, that's a little more complicated. Riders will traverse roughly 1000km (621mi) of Mongolia's volatile terrain in less than 10 days, battling savagely unpredictable weather while trying to temporarily tame dozens of semi-wild lighting ponies. It's pure equine insanity.
Let's take a minute and get to know this exercise in endurance a little bit more, shall we?
1. This is Mongolia.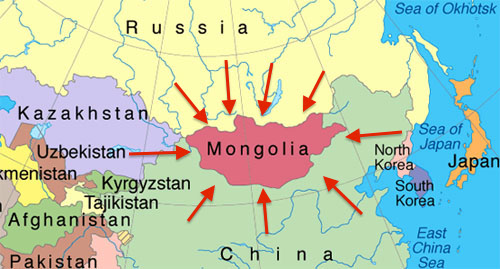 But, you already knew that, right? Riiiight?
2. The race is an homage to the ancient horse relay postal route created by Genghis Kahn in 1224.
The ancient Mongol warriors are considered some of the best horsemen to have ever lived, a legacy that's still alive in modern Mongolia. The country is almost exclusively rural where many of its inhabitants are nomadic and largely reliant on horses for everyday function.
3. The Mongol Derby was first held in 2009, the twisted creation of UK-based company The Adventurists.
The Brits spearheaded the EXTREME EPIC ADVENTURE craze that's inspired millions of semi-fit and dad-bodied office workers to travel to desolate pastures so they can crawl through mud pits covered by barbed wire then leap over fire pits all in the name of exercise. This event just takes that up a notch.
4. To enter the race riders must shell out £8,495 ($13k), prove they are fit for the extreme and experienced under saddle.
And for that, you get a week of sheer mental and physical hell, as so eloquently stated by 2013 champion Lara Prior-Palmer.
"There is no way of adequately training for this race," she said. "You're on a horse for 13 and half, 14 hours a day…and you're just hungry and tired and lonely…"
The reward, however, is immense. Assuming you make it out of there in one piece, you are now the coolest person at the party. Which party? Any party, it doesn't matter.
You also get a lot of this—now that's a $13k view.
5. Women flat out own the Mongol Derby.
Women competitors often outnumber men by a considerable margin, and the last three champions are female (2015: South African Byeronie Epstein; 2014: Australian Sam Jones; 2013: Lara Prior-Palmer of the UK). Last year, our own fearlessly amazing Liz Brown conquered the steppe, and you can read her incredible account right here.
6. Horse Network has a horse in this race.
Some of you might recall Tim Finley and his gripping account of his OTTB rescue, Honor. Tim is riding in this year's Mongol Derby, a feat unto itself. But it's why he's riding that really hits home. Tim is competing to raise awareness for the mental health of veterans. It's estimated 22 veterans commit suicide each day in this country and Finley, an Air Force Captain, found himself in a dark place when he returned from a tour of duty in Iraq last year. Finley managed to fight his way out of the turmoil thanks in large part to many hours of equine therapy. He is fitting the expenses himself but Finley set up a GoFundMe to assist Heroes and Horses, a Montana-based non-profit that provides therapy to vets through intense backcountry excursions.
7. Mongolian Horses are semi-feral.
To complete the race, each competitor will ride 27 different horses. Mongolian horses. These are not saddle-broke plodders, but semi-wild hellions as unpredictable as the weather. The breed is largely unchanged since the reign of Genghis Kahn. Small (12-14hh), stocky and nimble, these horses are equipped to handle the rugged terrain and a variety of conditions. They just don't like to be ridden all that much. Oh yeah, and the saddles are not exactly Devoucoux. A rider's prospects will hinge greatly on luck-of-the-horse draw. Who will get to ride the Mongolian Pharoah, and who will be stuck with Bolting Bob?
8. Horse welfare is a major part of the race.
The race is governed much like an FEI endurance event. Riders stop for a horse exchange at relay stations every few miles where veterinarians are on hand to monitor the heart rates and overall condition of the horses. Only when a horse's heart rate has returned to an optimal level may the rider continue. Stiff time penalties are imposed if the horses are pushed too hard.
9. Rider welfare on the other hand…
 Injuries are common and most riders will fall off at one point or another. When you're riding 27 different semi-wild Mongolian horses, it's inevitable. There are dozens of trained medical professionals on hand and medivacs on the ready should things get particularly hairy. Hey, this is what they've signed up for, and it's written pretty clearly
on the website
: "
These are not holidays. These are adventures and so by their very nature extremely risky…You really are putting both your health and life at risk."

So there you have it. 600+ miles in 7-10 days across one of the most primitive and unpredictable landscapes on the planet. You can actually follow each rider's progress (or lack thereof) in real time via The Adventurists website.
So who else is in for 2017?