By the time Secretariat arrived at the Belmont in 1973, the world knew his name. His record setting romps in the Kentucky Derby and Preakness Stakes solidified this glistening chestnut son of Bold Ruler as a legitimate Super Horse. Only four horses dared to show up that day in early June to contend Big Red, including Kentucky Derby and Preakness runner-up, Sham.
Sham's jockey, the legendary Laffit Pincay, Jr., was instructed to press Secretariat from the get-go and match him stride for powerful stride. Which is exactly what he did as he chased Secretariat through a blazing 6 furlongs in 1:09 4/5. Sham was a very nice racehorse. Though not an official time because he finished second, most experts believe he ran the second fastest Kentucky Derby ever. But on this day, after trying to match Secretariat's sprinting fractions through the first half of the race, he was done. Secretariat had almost literally run him into the ground.
As Sham retreated, Secretariat quickened and, as race announcer Chic Anderson so famously proclaimed, "Secretariat is widening now…he's moving like a tremendous machine!"
His jockey, Ron Turcotte, barely moved, save for a couple of looks back to see the carnage his great colt had left in his wake.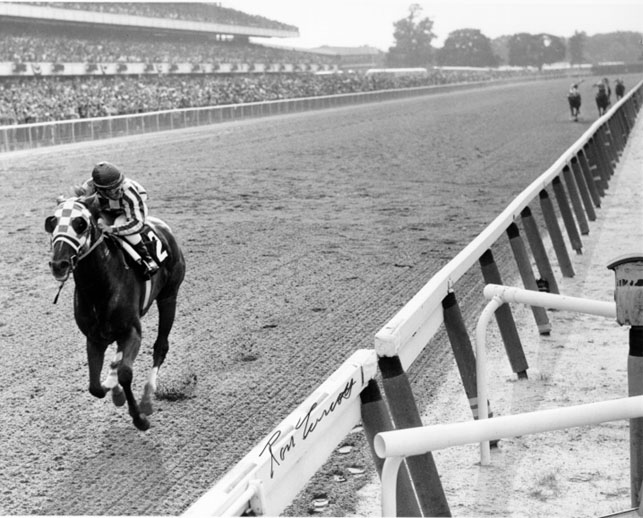 They hit the wire in 2:24, a record that will stand as long as time itself. Secretariat recorded an average speed throughout the 12 furlongs of an unheard of 37.5 mph. His fractions are a marvel in their own right:
It was more than just a horse race that day at Belmont 41 years ago. Secretariat's otherworldly performance inspired people and still does to this day. Even the stoic Jack Nicklaus, who rewrote the record books in professional golf, was moved to tears. Nicklaus once told CBS commentator Heywood Hale Broun that he cried watching the race and couldn't understand why. Broun responded, "All of your life, in your game, you've been striving for perfection. At the end of the Belmont, you saw it."
Read:
Pulitzer-Prize winning columnist, Red Smith, filed this column in the NYT on June 11, 1973. "A Little Greedy, and Exactly Right"
WATCH:
What makes Thoroughbreds such "tremendous machines"? Here's 5 things: