When Baker Bean first arrived at Days End Farm Horse Rescue in October 2006, the scrawny, malnourished two-year-old Appaloosa colt more closely resembled a crippled foal than a two-year-old.
The colt's protruding ribs and hip bones and underfed frame created the illusion of a younger, smaller foal, and a rusty nail lodged in his hoof led to his near inability to walk.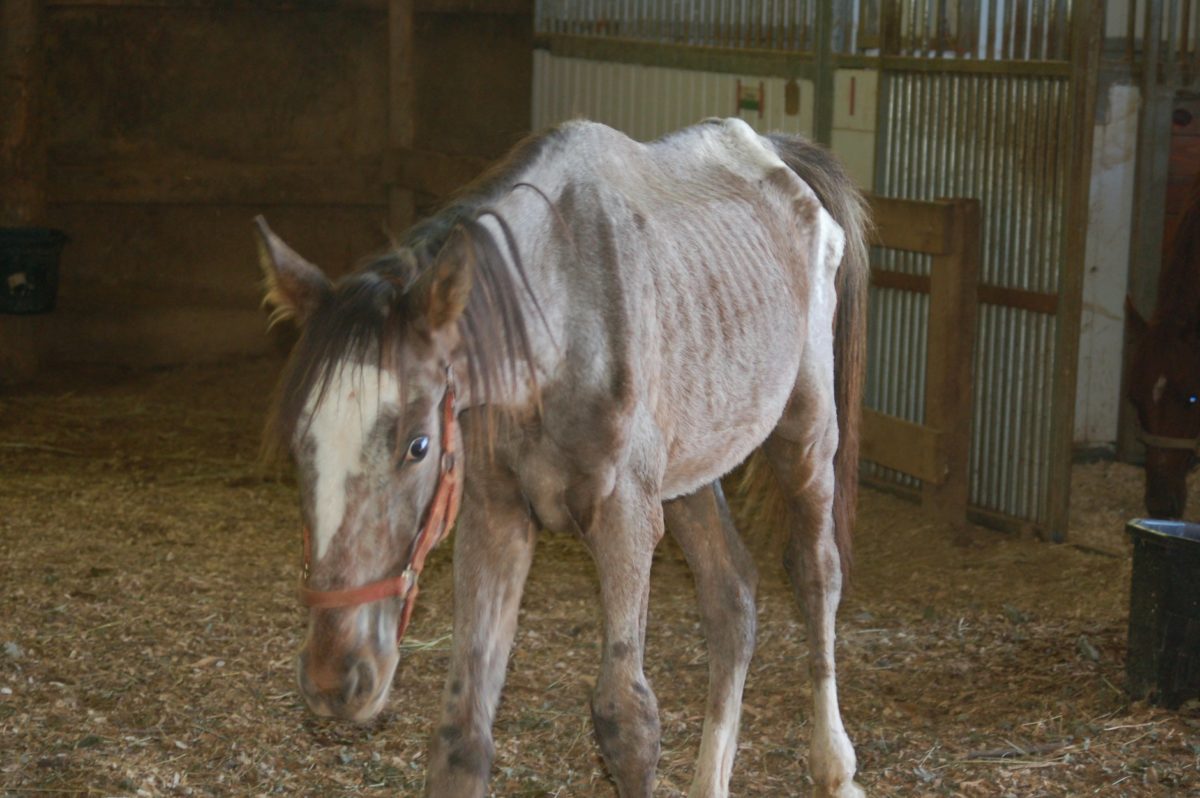 "Bean," as he would become known, was one of 18 horses seized by authorities from a farm in Calvert County, MD, where they were found living primarily on their own in a small barn, surrounded by feces and drinking water largely out of mud holes. With abscessed feet and malnourished, parasite-infested bodies, eight of the horses in the worst condition were brought to Days End Farm Horse Rescue in Woodbine, MD, including Baker Bean.
When neglected and abused horses arrive at Days End, the aim is to rehabilitate them, re-train them, and adopt them out to new homes. When a horse like Baker Bean arrives, the primary aim is solely to keep the animal alive.
In his first weeks at Days End, Bean had to be lifted to his feet at least once a day, his body too weak to get back up on his own. Days End's dedicated staff took turns hand feeding him small meals of mushed pelleted feed every four hours in a cautious re-feeding schedule designed to not overwhelm his body.
During this time and very soon after his arrival, the colt was also given his name, following the Days End's naming convention.
Each year, the first 26 horses are named alphabetically with single word names; the cycle through the alphabet then continues with double word names and triple word names. (In 2018 and 2019, the Day's End naming pattern made it as far as Quinlan's Quirky Quo!) As the 28th horse rescued in 2006, the near-death, unnamed Appaloosa was given a new life as Baker Bean!
As the weeks went by and Baker Bean was carefully reintroduced to food, treated for rain rot, and gradually given a daily de-wormer to rid him of parasites, he began to regain his strength. The whole of Days End staff celebrated on the day he was able to stand up on his own!
Saving Each Other
At the same time that Baker Bean was being rehabilitated, Days End volunteer Tina Snyder was recovering from the loss of Lollipop, the first pony she adopted from Days End several years prior.
"We had Lollipop many years. When she died, I was so broken-hearted," said Snyder, who previously competed at the grand prix level of show jumping and currently owns and operates her own Safe Haven Farm Equine Learning Center in Sykesville, MD. "I decided that I had to sink myself into a project."
That project was helping the impounded horses, including Baker Bean, brought to Days End Farm.
"I went over to see them because I just needed to put my heart into something," said Snyder, who, as a long-time, trusted Days End volunteer and adopter, ended up adopting two of the horses on the spot that day. "Bean was standing in the middle of three young colts, and he was so frail and so small that the other two were holding him up. I told [then executive director] Kathy Schwartz that if he lived, I wanted him too."
But just as Baker Bean was beginning to come around for the better, Snyder found her own life on the line.
On December 8, Snyder was towing her trailer to Days End when she collided with a snowplow. Her truck and trailer overturned, flipping three times; Snyder stuck hanging upside down. The accident left her with a traumatic brain injury that rendered her unable to speak in complete sentences.
Over the weeks that followed, Snyder slipped into a state of depression.
"When you have one of these brain injuries, life changes, and you do get very depressed," she said. "I really did feel like I was on that edge. I did almost let go and die, but I thought about Bean. I knew he was hanging on, and I was going to hang on."
As Snyder regained her strength, Baker Bean was regaining his and came to live at Snyder's Safe Haven Farm.
"He actually saved my life," said Snyder, who eventually regained her ability to speak. "My doctors will tell you that the only thing that brought me back all the way was the fact that I had to take care of him. I had other horses here; I had other people working here, but he and I had just that kind of a bond. We still do today. I healed, and he healed."
By age two-and-a-half, Baker Bean had grown to roughly 12 hands tall. Today, at 15 years old, he stands at 16.2 hands, exceeding everyone's expectations of growth for the once malnourished, underdeveloped colt.
"Nobody ever expected that he would get as big as he did," said Snyder. "When I brought him home, it was with the idea that he was going to be stunted, and I was going to give him the best possible life that I could for as long as he had. We never actually expected him to grow up, but he did. When he was three years old, we started him under saddle."
A New Lease on Life
In the years that followed, Baker Bean continued to surpass expectations. He began competing successfully on the Howard and Baltimore County hunter circuits in Maryland before also taking up eventing and dressage.
"He really wants to be a big jumper; he'll sail over four-foot like it's nothing!" said Snyder. "Just because I know he has some limited joint space issues from growing so big, I won't let him do it, but he loves his job. He's my heart horse. He'll be cremated and buried with me. If I die first, he has a trust fund, and he'll be well cared for."
In 2013, Baker Bean qualified to compete in the regional junior young rider team championships at Morven Park in Virginia, where he helped his team clinch the gold medal. Since then, he's competed at local events at Fair Hill, earned top ribbons at Potomac Valley Dressage Associations shows, and been shown to continued success in the local hunters.
"We go to these big shows, and I know other trainers probably get frustrated, because they know we're a rescue," said Snyder, who, in addition to Baker Bean, has personally adopted 17 horses and ponies from Days End Farm Horse Rescue.
"They have clients that have lots of money on fancy ponies, and my kids on little Diego, who is a stunted Quarter Horse, and Nashville Nights who is a funny-looking Arab/Quarter Horse, and Tortuga, who is a black and white paint and his head is just a little bit too big, go in there, and [do well]!
"These horses know that they have been pulled out of the fire," concluded Snyder. "They will give you 100 percent, 100 percent of the time. They all come with baggage, but if you can get past that, you get a horse like Baker Bean. A horse that would absolutely walk through fire for you."
Learn more about Days End Farm Horse Rescue and horses like Baker Bean currently available for adoption by visiting www.defhr.org.