Broker's Tip, born just a few months after the stock market crash, came into the 1933 Kentucky Derby winless and without much support. Though he was bred and owned by Col. E. R. Bradley, whose life mission seemed to be to win as many Kentucky Derbies as possible, Broker's Tip was seen as his weakest entry in years. All the attention was focused on lukewarm favorites Ladysman and Pomponious, with the rest of the field dismissed.
The real stars, however, would soon turn out to be the maiden Broker's Tip and the "ill-tempered" Head Play.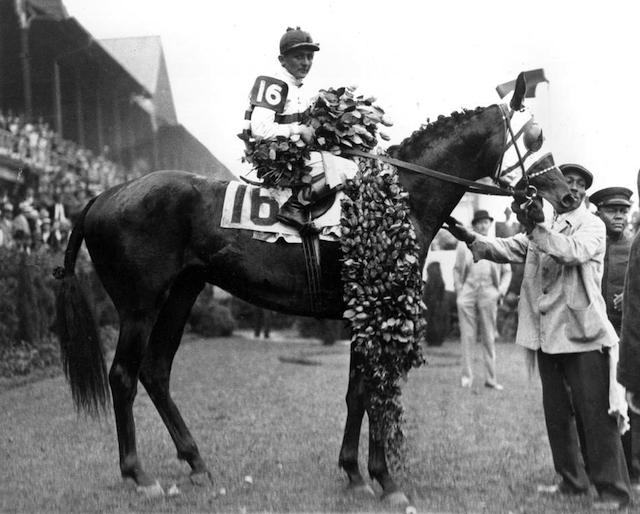 Head Play, showing the stubborn streak of his uncle Man o' War, refused to load into the starting gate and was allowed to start from outside of it. He bounded along quickly enough to claim the lead after six furlongs. Broker's Tip and jockey Don Meade, on the other hand, stayed well back in the pack, leading only one other horse through most of the race. Due to the heavy mud, Head Play was kept about 10 feet off the inside rail, a plan that backfired when the late-running Broker's Tip came roaring through the gap in the stretch. It was then that racing history was made as Head Play's jockey, Herb Fisher, steered him inside, towards his rival, hoping to block him off. The "Fighting Finish Derby" had begun.
In desperate bids to win the race, the jockeys grabbed each other's saddlecloths, bridles and legs. They used their whips on each other instead of the horses. They tried to drag each other out of the saddle or knock the other horse off course. Neither could cheat their way to a clear edge, with Head Play and Broker's Tip sweeping under the wire seemingly as one.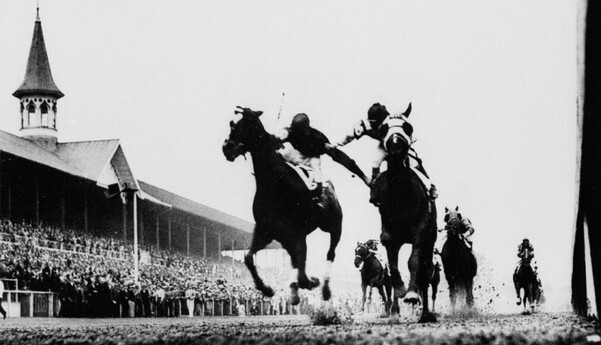 To their dying day, both jockeys claimed to have won the race. Both also committed enough fouls to have been disqualified. As it stands, Broker's Tip was declared the winner by the stewards, a group of four men who were watching the race through binoculars from the top of the grandstand. Bitter Head Play fans, including his jockey Herb Fisher, claimed the stewards were afraid to offend the powerful Col. Bradley by ruling against his horse. They also pointed out that in close finishes, it almost always looks like the inside horse has won, even if they hadn't.
Broker's Tip never won another race. To this day, he remains the only horse in history to have his sole career win come in the Kentucky Derby. He had some success as a stallion in California, siring 1943 powerhouse Market Wise. Head Play, meanwhile, went on to clear victories in the Preakness Stakes, Suburban Handicap, and San Antonio Handicap.
Read more at the Horse Racing History facebook page.